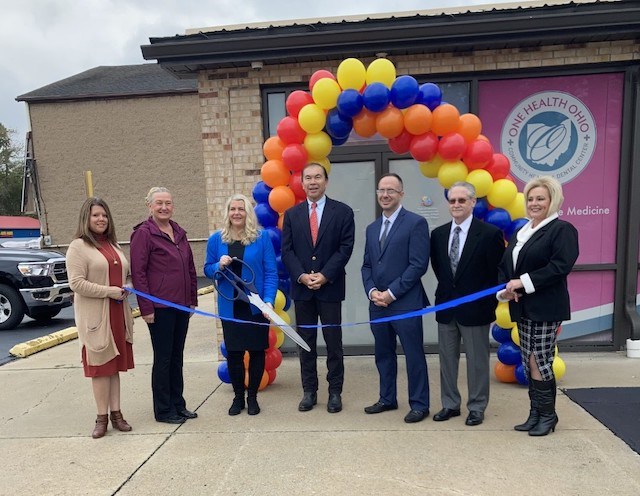 Also in today's report: Kravitz Deli is bringing back its honor roll next week; Moore takes charge at Amerifirst oland; and Baird Brothers add a studio.
NEWTON FALLS — RISE Recovery recently had a ribbon-cutting ceremony to celebrate the opening of its third Medication-Assisted Treatment and Counseling Center.
RISE Recovery, 175 E. Broad St., opened its first location on Belmont Avenue in January 2019 and second location in Warren at the Lloyd McCoy Community Health Center in June 2019.
"RISE Recovery is excited to bring the premier outpatient Medication-Assisted Treatment clinic to the community of Newton Falls as we work together to empower our clients battling the disease addiction along their journey, elevating their climb [toward] recovery," says Dr. Maria D. Kowal, chief medical officer.
RISE Recovery accepts Medicaid, Medicare and most major insurances. A Sliding Fee Scale is available to assist the medically uninsured and underinsured who qualify. For information, contact RISE Recovery at 1-844-652-8219 or visit www.onehealthohio.org/rise-recovery.
Kravtiz Deli revives honor roll lineup
YOUNGSTOWN — In celebration of National Sandwich Day, Kravitz Deli will be reviving sandwiches from its illustrious Sandwich Honor Roll next week.
The sandwiches cost $10.99 each.
An old-fashioned authentic deli tradition, the Sandwich Honor Roll was initiated in 2005 by President Jack Kravitz.
"We created the Honor Roll concept as a way to recognize all the people and institutions who not only made an impact on our Valley, but also who were fans of our deli," said Kravitz in a news release. "This is our way of remembering and saying thanks!"
"We thought a week that honors the sandwich was a perfect time to bring them back," Kravtiz said.
In addition to specialty sandwiches, Kravitz will feature special pricing with all regular deli sandwiches available piled high. Instead of the $12.99 (6 oz.) price, those sandwiches will cost the same $10.99 as lunch size (4 oz.).
Anyone donating to Trumbull County Animal Welfare League as part of their purchase will be entered into a drawing to win free sandwiches for a year. The drawing will be at 5 p.m. Friday.
Amerifirst Poland names Moore as branch manager
POLAND — Amerifirst Poland has named Matt Moore as branch manager and expanded its mortgage lending team.
"Our goal is to help anyone who wants to buy a home get the funding they need," Moore said in a news release. "Homeownership is an indicator of a strong community, and we're glad to play a part in that process." 
Moore has been a mortgage industry professional since 1998. He is a 1997 Slippery Rock University Summa Cum Laude graduate and lives in Boardman with his wife and three sons.  
New to the Amerifirst Poland team is Kevin McBryer, who is serving as a loan originator. This is his second stint in the mortgage lending field after previously serving as branch manager for a Boardman company and as the owner of a mortgage company in Cuyahoga Falls. 
Boardman native Drew Skrinyer has joined the Amerifirst Poland Team as a loan originator assistant. Skrinyer will use his experience communicating with the Spanish-speaking community to assist under-served Valley families with the home buying process.
Amerifirst Poland is located at 577 E. Western Reserve Road. To learn more about Amerifirst Poland's new team members, visit team page.  
Baird Brothers adds Content Studio
CANFIELD — Following the lead of major brands like Red Bull and Southwest Airlines, Baird Brothers Fine Hardwoods recently unveiled its own onsite content studio, which will be utilized to produce high-quality programmatic content for consumers nationwide.
The studio, referred to as Studio 3B, was named after the three Baird brothers (Howard, Richard and Paul) who established the hardwood manufacturing company in 1960.
"It's no secret that video and in-house marketing content is taking the world by storm, and with Studio 3B, we will be able to consistently deliver the type of content our customers are looking for," said Steve Stack, director of new business development in a news release. "From project tutorials and how-tos to discussions with guest builders and industry experts, we want to be the trusted resource that consumers turn to in the hardwood lumber industry."
All videos and content produced in the facility will be housed on the company's digital content hub.
Currently, the digital content hub features:
"Build It With Baird," a DIY/tutorial video series;

"American Hardwood Advisor," industry interviews hosted by Stack;

"Shop Talk," quick tips and answers to common hardwood lumber questions;

"Proud Partner of This Old House," highlighting TOH builds that feature Baird products;

"Project Plans," downloadable DIY projects;

"Studio 3B," a virtual walkthrough of the studio itself.
— Do you have an announcement about your business or organization you'd like to share? Email [email protected].

https://www.mahoningmatters.com/local-news/business-updates-rise-recovery-celebrates-newton-falls-opening-4549158