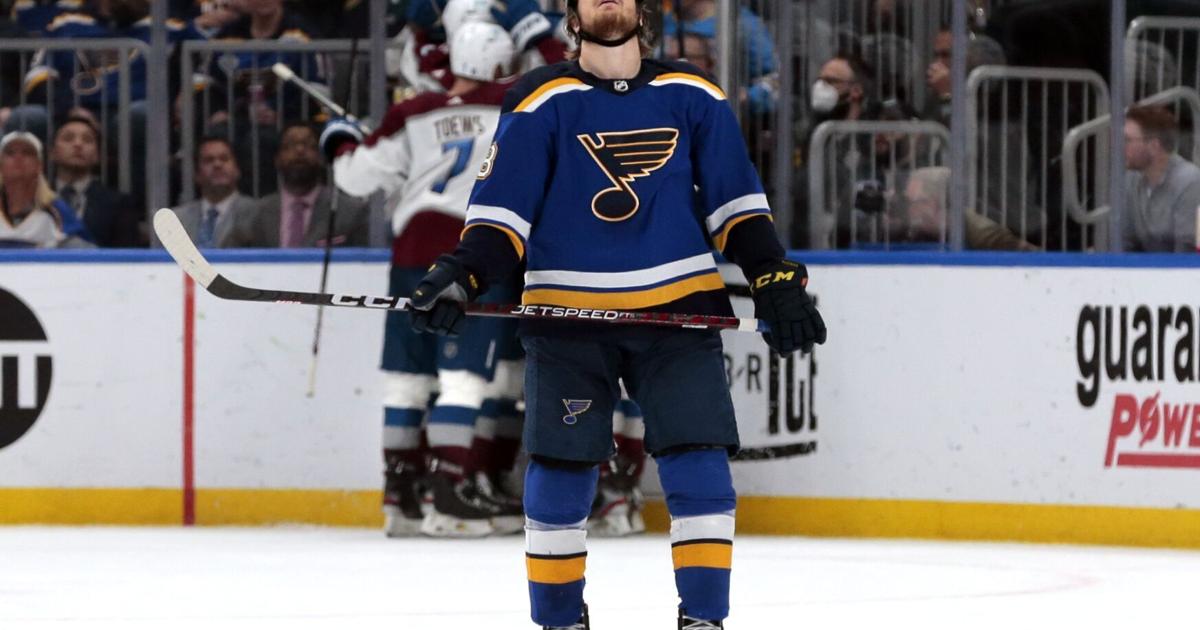 One of the most entertaining and memorable seasons in Blues history came to an end at least 5.6 seconds early with Darren Helm's Game 6 shocker Friday night for Colorado.
The Blues' 109 regular-season points tied for the third most in franchise history. Their 3.77 goals-per-game average was the fifth-best output in Blues history, part of a long list of offensive records or superlatives.
But they had a brutal draw in the playoffs, facing two of the NHL's top five scoring teams in the Minnesota Wild and Colorado Avalanche. They made it past the Wild in six games despite a rash of injuries on defense. They couldn't get past the Stanley Cup-favorite Avalanche in Round 2.
They can spend the rest of the offseason wondering what if Colorado forward Nazem Kadri hadn't caused the collision that ended goalie Jordan Binnington's season six minutes 45 seconds into Game 3.
All things considered, the Blues neither underachieved nor overachieved. They looked like a top 10 team entering the season and that's about how they performed. Nothing more, nothing less. They finished ninth in the overall regular-season standings, then made the final eight in the playoffs.
Questions, as always, are there entering the offseason. But the Blues are in way better shape than they were a year ago at this time after barely squeezing into the playoffs and then getting swept by Colorado in the opening round.
A look at the season that was:
How about that top nine?
All season long, the strength of the team was its top three lines. All nine players on those lines scored at least 20 goals — a league-high total that gave the Blues one of their most balanced offenses in franchise history. It made it nearly impossible for teams to concentrate on one player — or one line — and expect to shut down an offense that was almost slump proof. At one point in the season, the Blues scored four goals or more in 12 consecutive games, a franchise record.
Robert Thomas (20 goals, 57 assists, 77 points), Pavel Buchnevich (30-46-76), Jordan Kyrou (27-48-75) and Ivan Barbashev (26-34-60) all established single-season career highs for those categories.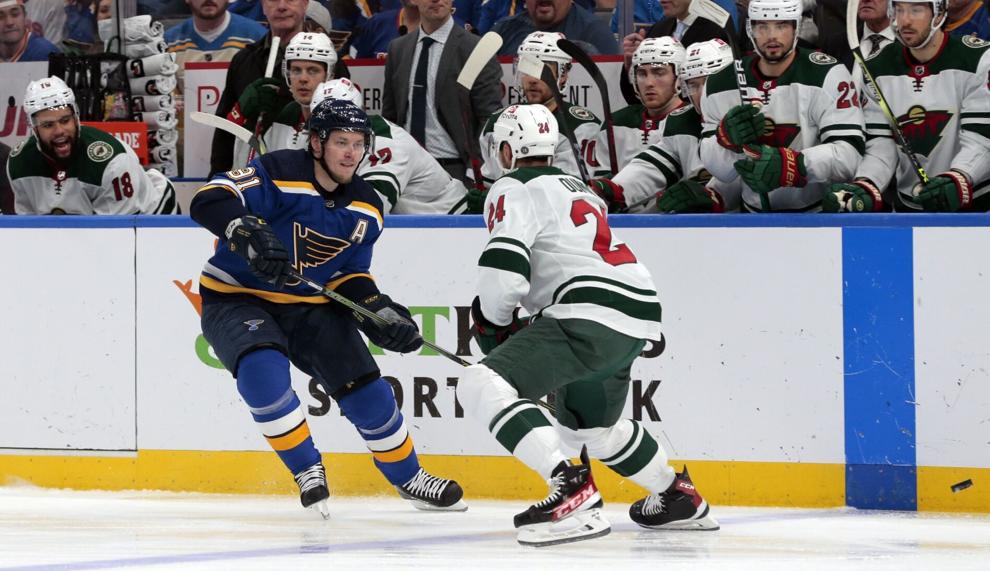 Vladimir Tarasenko set career highs for assists (48) and points (82) in one season, while also posting his sixth 30-goal season. He had a career-best nine game-winning goals. After shoulder issues limited him to a combined 34 games and seven goals over the previous two seasons, it was an emphatic comeback campaign.
The offseason additions of Buchnevich and Brandon Saad were big. They combined for 54 goals. Four Blues forwards lost through trade or free agency last offseason — Sammy Blais, Mike Hoffman, Zach Sanford and Jaden Schwartz — combined for only 32 with their new teams.
The only disappointment came when that balanced scoring didn't quite carry through in the postseason. Barbashev and Brayden Schenn did not have a goal in the playoffs; Buchnevich had one; Tarasenko had only one goal against Colorado after scoring five in the first round against Minnesota.
Defense better, but. . .
The Blues finished a respectable 11th in goals allowed per game, 2.92. That's up from 18th (2.98) the previous season, and more of an improvement than the raw numbers would indicate based on the fact that leaguewide scoring was at a 26-year high this season. But the Blues need to be more consistent, with fewer hiccups, in order to be at a championship level.
You could make a case for Justin Faulk as team MVP. He finished tied for sixth among all NHL players in plus-minus (plus-41) and was fifth in goals by defensemen (16). Aided by more extensive duty on the power play, Faulk's 47 points (16 goals, 31 assists) was more than his combined total (12 goals, 29 assists, 41 points) in his first two seasons in St. Louis.
After an injury-plagued 2020-21, Colton Parayko bounced back with a strong year. Sure there was a rough patch here and there, but Parayko proved tough to play against overall and usually drew the opposition's top line.
Torey Krug was on his way to a strong season before getting slowed by injuries right after the trade deadline. That's where Nick Leddy came in handy in the trade with Detroit as a steadying influence on the back end. Niko Mikkola had some ups and downs, but looks like he's ready for a top four role.
Goalie roller-coaster
It's difficult to know exactly what to make of the goalie play. Ville Husso had a strong regular season, but a subpar postseason. Binnington had a subpar regular season, but a strong postseason. Overall, the team's goalie play needs fewer valleys — and valleys that aren't so deep.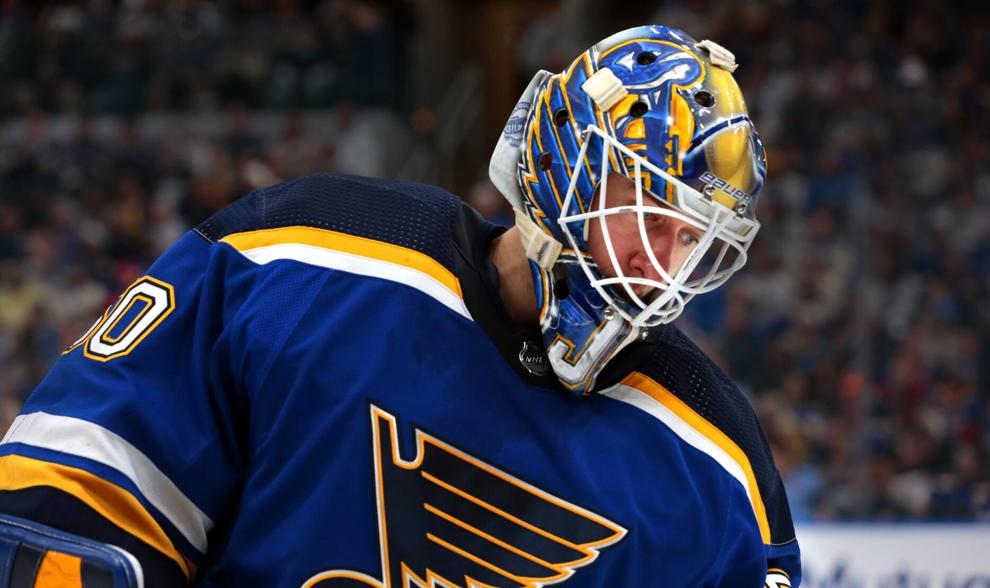 All along, coach Craig Berube said the team needed two goalies to get through the season, and boy did that cliché hold true. Actually, the Blue need five goalies to get by, with Charlie Lindgren, Joel Hofer and Jon Gilles all getting at least one start during a stretch in which Husso and Binnington were slowed by either injury or COVID.
Only New Jersey and Buffalo, nonplayoff teams, had more goalies start at least one game — at seven and six, respectively.
Really special teams
It was a record-setting season on the power play and an impressive bounce-back year on killing penalties. The Blues finished second in the league on the power play (27.0%), which was a franchise record. The team's overall depth at forward paid off there with two strong units. The Blues had eight players with at least four power play goals, led by David Perron's 11 and Ryan O'Reilly's nine.
Meanwhile, the Blues finished fifth in penalty killing (84.1%), which was the 15th-best kill rate in franchise history. A more aggressive approach instituted by assistant coach Jim Montgomery paid big dividends for a unit that finished 25th at year ago, at 77.8% — the Blues' worst PK efficiency rate in 32 years.
Disappointments
There weren't many, but at the top of the list is forward Klim Kostin.
The former first-round draft pick made the opening-day roster, scored twice in the second game of the season and played a few games on the top line early in the season. But his play was erratic, and he was sent to Springfield on March 7, in effect losing his spot to Alexei Toropchenko.
Defenseman Jake Walman had a spot in the top six for the first 14 games of the season before Mikkola moved into that spot. Despite an occasional flash of skating and puck-moving ability, he just wasn't noticeable much of the time and was shipped to Detroit as part of the Leddy trade.
Veteran James Neal was a low-risk pickup who scored a hat trick in the preseason opener and had two goals in the first nine regular-season games. He would not score again as a Blue. He was slowed by a nagging injury in late November and December, spent some time on the COVID list and then was sent to Springfield on Jan. 26, where he's still playing.
COVID/injuries
Of the 23 Blues on the opening-day roster, 18 found themselves on the COVID list at one time or another. All told, 21 Blues spent time on the COVID list, missing a combined 79 games. Most of the players experienced little or no symptoms.
But that wasn't the case with everybody. O'Reilly, for example, had symptoms and even after he returned to action in early November, it took him a while to get going. Once the NHL relaxed its COVID protocols after the All-Star break, COVID no longer was an issue. The Blues had a few players miss some time with illnesses, but none that were announced as COVID.
Injury-wise, the Blues had their share, but nothing quite like the 2020-21 season, when they had seven players on injured reserve at one time.
Schenn missed nine games in November with cracked ribs and it took him a while to get going once he returned. Perron missed 11 games because of a concussion in late November and December, and it also took him a while to get going once he returned Tyler Bozak missed 20 games from mid March to late April because of a groin tear.
On defense, a wrist injury that needed surgery kept Scott Perunovich out of all Blues games from mid January to the playoffs. Marco Scandella missed 11 games in February and early March because of a lower-body injury, before another lower-body injury at the end of the regular season and into the playoffs caused him to miss nine more.
Torey Krug missed 10 games in March and April because of a hand injury, and then played in only two of the last five regular season games and three of the team's 12 playoff games because of a lower-body injury (believed to be a knee injury).
The Blues somehow made it through the first-round playoff series with Minnesota even though four of their top six defensemen missed time because of injuries. And of course, the apparent knee injury to Binnington in Game 3 against Colorado was a crushing blow to the Blues' hopes for a second-round upset.
The work of Springfield Thunderbird callups helped keep the Blues afloat, particularly players such as Lindgren, Toropchenko, Nathan Walker, Dakota Joshua, Logan Brown and Calle Rosen. All told, eight skaters who began the season with Springfield combined for 19 goals and 30 assists for the Blues. And two goalies who started in Springfield went 6-1-0 for St. Louis.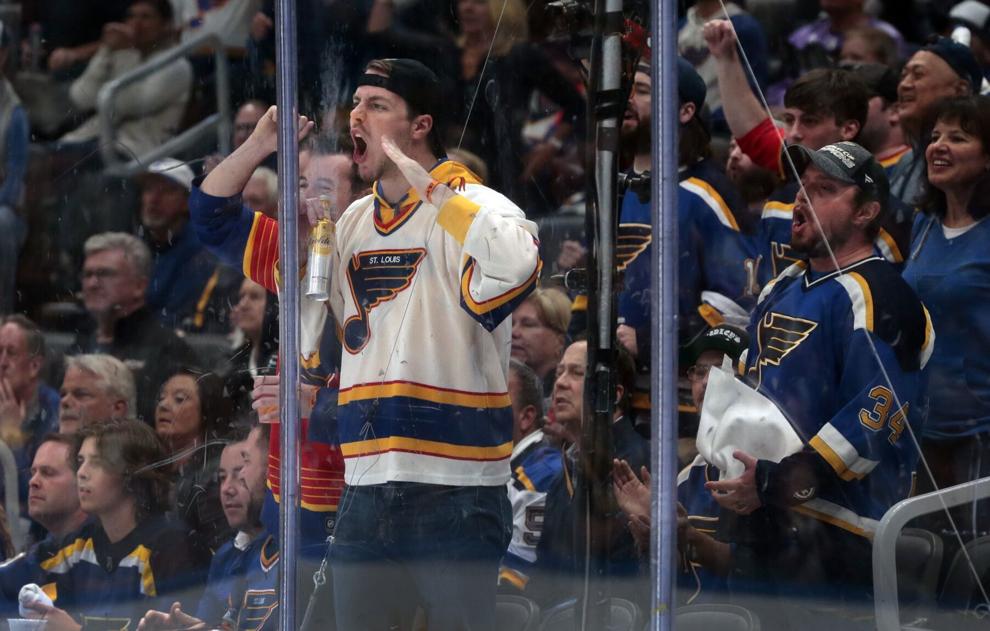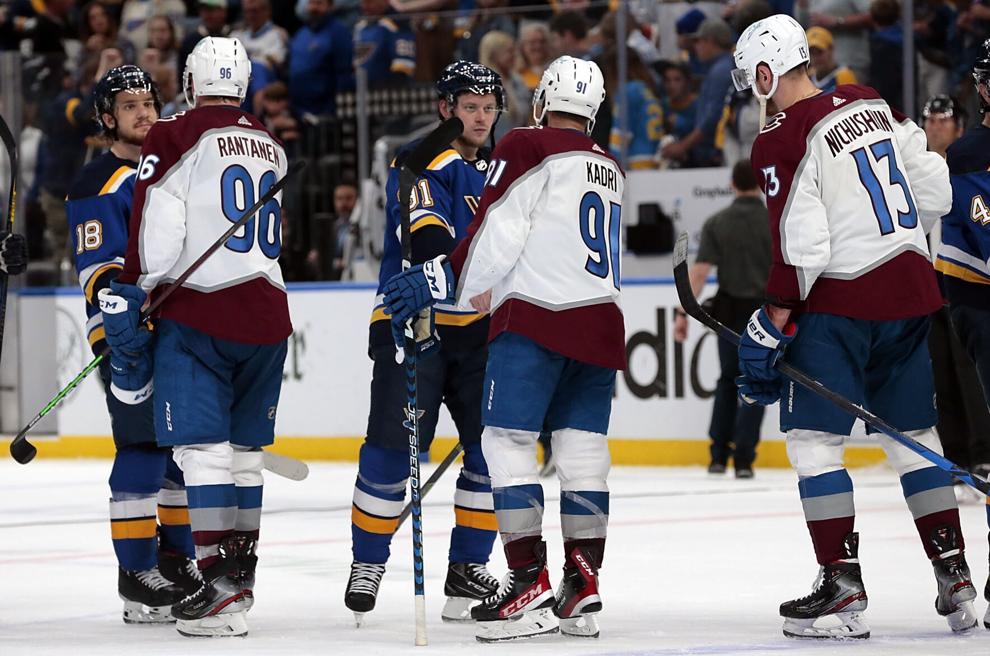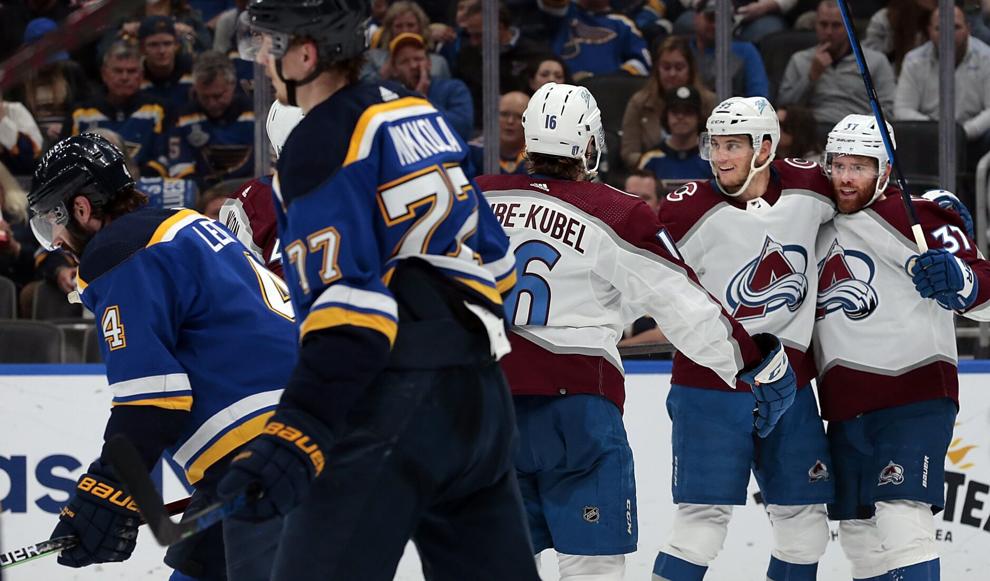 https://www.stltoday.com/sports/hockey/professional/blues-season-in-review-some-lows-many-highs-lots-of-entertainment/article_06db6758-c0c3-55b6-b3db-1ecd03b47b9a.html