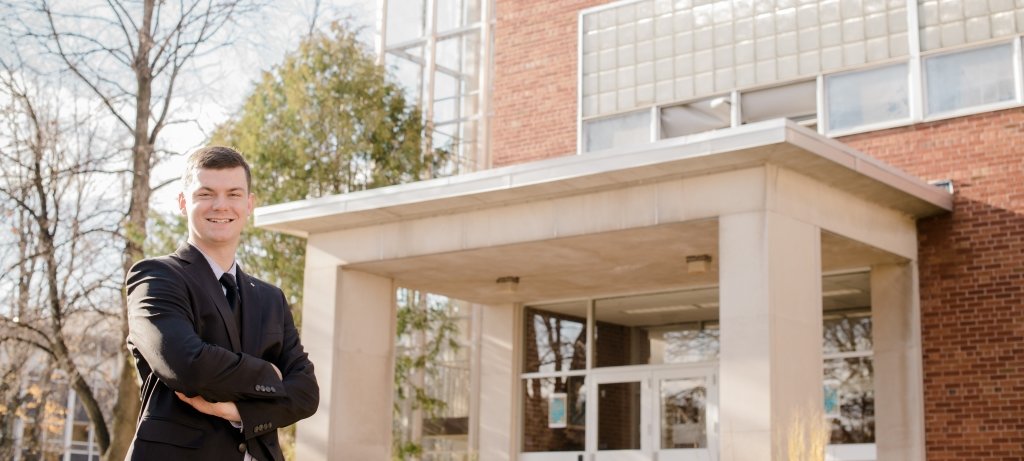 An electrical engineer whose mastery of business skills supercharged his career and
a graduating civil engineer on his way to an MBA are featured speakers at Michigan
Technological University's 2021 Midyear Commencement.
The ceremony, at 10:30 a.m. Saturday in the Student Development Complex Varsity Gymnasium, is the moment nearly 500 Huskies have been waiting for as recipients of hard-earned bachelor's, master's and
Ph.D. degrees. They'll be addressed by student speaker Jay Czerniak, a civil engineering
major from Medford, Wisconsin, who graduates with a minor in philosophy and ethics.
Commencement Logistics
Face coverings are required in the building. See

MTU Flex

for additional campus health and safety protocol information.

Free parking is on a first-come, first-served basis in Lot 22 adjacent to the SDC
and Lot 24 near the football field. See the

campus map

for accessible parking locations.

Share your Husky Pride on social media using #mtugrad.
Building a Bright Future — and Ice Cathedrals
Czerniak's Michigan Tech story is built on a foundation of family and faith. He found
a second family at Tech as a member of St. Albert the Great University Parish, known for its close-knit, welcoming community and its steadfast and stellar MTU
Winter Carnival participation through the years — including the relatively new tradition
of building an ice cathedral for outdoor services on Carnival weekend.
"I will be forever grateful to St. Al's and for all those who have helped me grow
not only as a professional but as a human being during my time at Tech," said Czerniak,
whose time at MTU isn't over. He returns to campus in spring semester 2022 to pursue
a master's in business administration (MBA). In June, he plans to return to Wisconsin to start his career as a project
manager with Miron Construction, where he previously interned. 
"I hear often that faith is lost in college but at Michigan Tech, with the mystery
of science and wonders of a gorgeous natural world, there is ample opportunity to
grow and mature in one's faith."Jay Czerniak, Midyear Commencement Student Speaker

"Michigan Tech was my dream school," said Czerniak, who learned about Tech from introductory
engineering courses at his high school offered through Project Lead the Way. "It topped the list for schools in the Midwest. My love for snow, the outdoors and
a desire for a small-town atmosphere made Tech the perfect place for me. Picking a
major was also easy. My grandfather operated his own small excavating company. From
a young age he helped expose me to the world of construction. I was instantly hooked.
Civil engineering is the perfect major to exercise my passion for construction and design as well as
my desire to engineer and problem solve."
Other Ways to Watch
Not here? No worries. If you can't attend Saturday's event in person, catch the commencement livestream.
Building a Leadership Legacy — and Family Traditions
The other Husky headlining Saturday's event is commencement speaker Mike Pulick Jr., who built an exceptional career through developing the business leadership skills
he first learned at Tech. The 1986 electrical engineering (EE) graduate also knows about following in family footsteps — and in his case, those
steps led to extraordinary family ties with Michigan Tech. 
A native of Livonia, Michigan, Pulick credits Tech as the portal to the leadership
skills he developed in a career that began at General Electric (GE). There, the former
MTU Blue Key President, who led the massive organizational effort to stage Michigan Tech's iconic Winter Carnival, took the next step in his career by completing GE's Manufacturing Management Program. 
"The combination of those two experiences in leadership and management really helped
me in my career. I would go on to take on future roles and situations that involved
leading a wide variety of people," said Pulick, who later earned his MBA from The
University of Chicago. 
After 12 years in numerous GE divisions, in 1999 Pulick joined W.W. Grainger Inc.,
ascending from vice president of product service management to president of Grainger
International. In 2015, Pulick joined the private equity firm Warburg Pincus, where
he was executive in residence for the industrial and business service sector through
2019. 
Current chairman of the Michigan Tech Fund Board of Directors, Pulick also serves on the Wencor Group, Kano Laboratories and Wittichen Supply boards
of directors, and is an adjunct professor at Florida Gulf Coast University in the
Lutgert College of Business. He also served on the Michigan Tech College of Business Dean's Advisory Council for five years. 
In keeping with his commitment to expose STEM (science, technology, engineering and
math) students and professionals to business, financial and leadership experiences,
Pulick also previously served on the Illinois Institute of Technology Board of Trustees
and the board for Junior Achievement of Chicago. 
Pulick has more than his own graduation to reflect on as he takes the speaker's podium
Saturday. Three of his siblings graduated from Tech with engineering degrees. His older sister majored in mechanical engineering, his younger sister in environmental engineering and his brother in civil engineering. 
But wait. It gets better.
"My older sister, younger sister and I all married MTU engineers," Pulick said. 
Pulick's favorite Michigan Tech memory is meeting his wife, Liz. "I was a junior,
she was a freshman," he said. "Our first date was at the theater in Hancock." The
couple of 33 years married in June 1988, shortly after she earned her mechanical engineering degree.
Liz and Michael Pulick live in Naples, Florida. The couple enjoys northern Michigan
summers in Petoskey, Michigan and spending time with family, including their two adult
children, Eric and Rachael, and spouses Kelsey and Matt.
Building Aspirations — and Life-long Tech Connections 
Kanwal Rekhi, a visionary who has routinely worked to forward entrepreneurial skills
and educational opportunities at Michigan Tech and around the world, will receive
the Melvin Calvin Medal of Distinction during Saturday's event. The medal is awarded to individuals associated with Michigan
Tech who, like its Nobel prize-winning namesake, have exhibited extraordinarily distinguished professional and personal
accomplishments. Rekhi, who earned his master's in electrical engineering from MTU
in 1969, is managing director of Inventus Capital Partners in California.
Kristin Kolodge will deliver the traditional Alumni Welcome to the graduating class.
The 1995 mechanical engineering graduate currently serves as MTU Alumni Board president and is executive director of human machine interface at J.D. Power.
Michigan Technological University is a public research university founded in 1885 in Houghton, Michigan, and is home to more than 7,000 students from 55 countries around the world. Consistently ranked among the best universities in the country for return on investment, the University offers more than 125 undergraduate and graduate degree programs in science and technology, engineering, computing, forestry, business and economics, health professions, humanities, mathematics, social sciences, and the arts. The rural campus is situated just miles from Lake Superior in Michigan's Upper Peninsula, offering year-round opportunities for outdoor adventure.
https://www.mtu.edu/news/2021/12/class-of-2021-celebrates-midyear-commencement.html