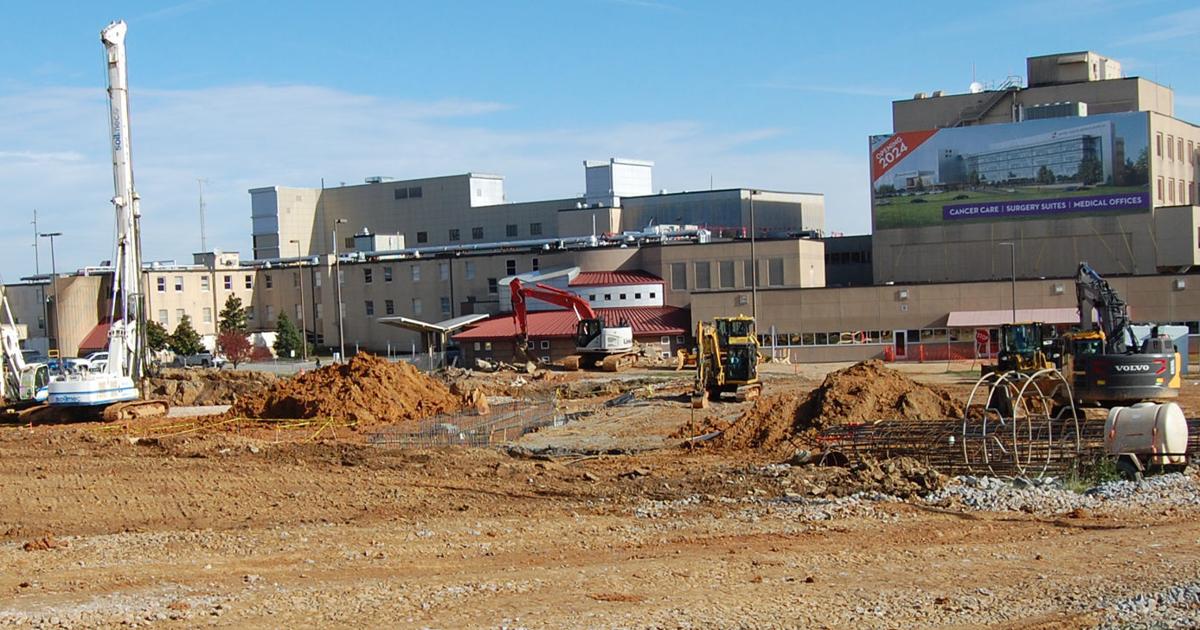 Ground preparation is underway to begin construction on Baptist Health Hardin's new Outpatient Medical Pavilion.
According to a news release, the $225.6 million facility is scheduled to open in 2024. The expansion marks the largest in the hospital's nearly 70-year history.
The investment far exceeds Baptist Health's initial intent to invest $235 million in a decade, with $150 million to be spent in the first five years, the release said. It is the second major investment Baptist Health has made in the hospital since it became part of the Baptist Health system on Sept. 1, 2020, with the first being the implementation of its new electronic health records system, Epic, earlier this year. To date, Baptist Health has invested more than $275 million in the local healthcare system.
"This building, which will be located behind the hospital's existing facility, is part of Baptist Health's commitment to invest much needed capital into this rapidly growing healthcare system," Baptist Health Chief Executive Officer Gerard Colman said in the release. "We know the vital role that Baptist Health Hardin plays in this region, caring for more than 400,000 Central Kentuckians, and that number is going to get much larger…We want to send a clear message that we are dedicated to strengthening and fueling Baptist Health Hardin's tremendous growth."
Baptist Health Hardin President Dennis Johnson said the investment is one part of the $1 billion strategic plan Baptist Health has set out for the nine-hospital system.
"Baptist Health is committed to Baptist Health Hardin, and all of the communities that we serve in Kentucky and Southern Indiana," he said in the release.
The new facility will help Baptist Health Hardin meet the needs of a growing region, the release said. The population in Baptist Health Hardin's 10-county service area is expected to grow by 6.7% in the next five to seven years according to a data analysis conducted for the project.
At 282,000-square feet, roughly 75% of the size of the existing hospital, the new outpatient medical pavilion will house a new comprehensive cancer care center, 12 new surgical suites including a hybrid operating room, three new cardiac cath labs, a multidisciplinary outpatient medical office building, and patient-centered spaces designed to promote emotional and spiritual wellness.
The new cancer care center will offer an oncology and hematology clinic, radiation therapy, an infusion clinic, and new equipment and technology. It will also feature a boutique and resource area, as well as spaces for rest, reflection and spending time with loved ones, all designed to provide patients the support they need during the cancer journey.
Clinics for multiple specialties are designed so patients can manage multiple healthcare needs in one convenient location, the release said. The new pavilion will be home to cardiology, pulmonary care, urology, vascular care, wound care, hyperbaric therapy and more.
Additionally, the new construction will feature a chapel and outdoor healing garden with a water feature.
For ongoing updates on the construction, go to baptisthealth.com/outpa tient-medical-pavilion.
https://www.thenewsenterprise.com/news/local/construction-to-begin-soon-on-outpatient-medical-pavilion/article_41b59f58-4d3b-5d02-b5cf-9b9691856b59.html