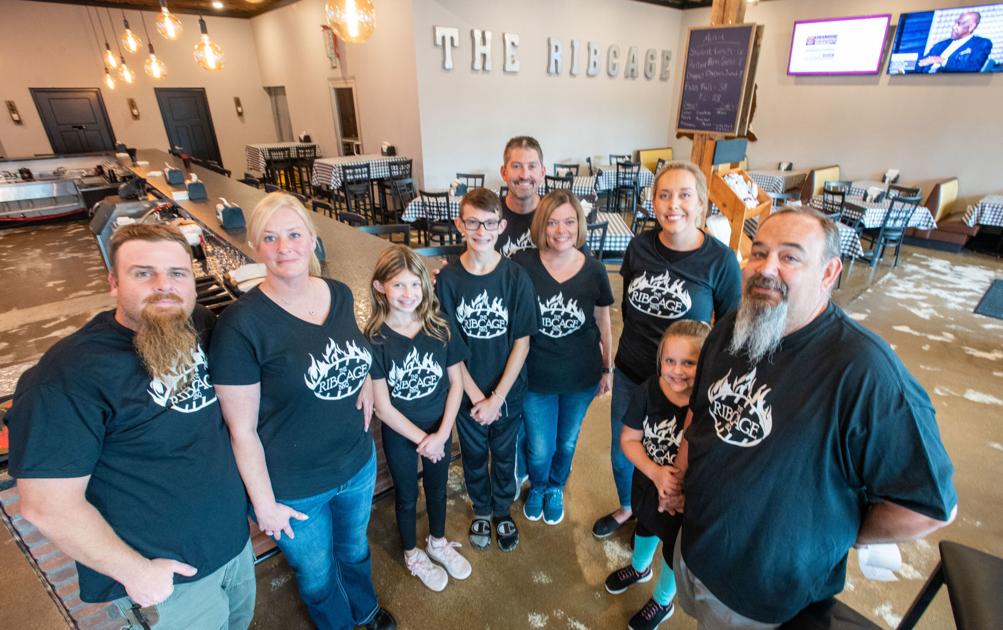 Restaurant questions? Click here
The Ribcage, a new barbecue restaurant in St. Joseph, is off to a busy start, owner Jennifer Laubscher said.
She and her husband, Anthony, officially opened Tuesday after a soft opening the previous Friday, when the food sold out in two hours, she said.
The Ribcage started as a food truck in 2016, and the Laubschers bought their building to open a restaurant at 208 N. Main St., St. Joseph, before the pandemic began, Jennifer Laubscher said.
On the menu are meats (among them pulled pork, brisket, chicken and turkey) smoked over white oak in a custom-built smoker, served in platters or on sandwiches with sides. Among the sides are macaroni and cheese, pit beans, fries, hash brown casserole, coleslaw, potato salad and vegetables.
Pit master Kevin Jolley is known for burnt ends, Laubscher said.
In addition to operating this new restaurant, Laubscher is a nurse practitioner at Christie Clinic, and her husband operates AJ's Station in St. Joseph and Urbana, she said.
Now hauling
Rodolfo (Rudy) Lopez first came to the U.S. from Peru in 2004, and now he's achieving his dream of being a business owner and helping his community, he said.
Lopez's business, The Mule Junk Removal of Champaign, offers hauling, junk removal, residential and commercial clean-outs, garden and yard services and dumpster rentals.
Lopez said he started the business earlier this year with a truck and a trailer and is now buying a dump truck.
Before starting his own business, he worked for local banks — First Midwest, Busey and Woodforest National banks, he said.
He donates the items he picks up that are usable, he said. He picks up a lot of bikes from customers, he said, and lists them for free on the website Nextdoor.
"Money comes and goes, but the thing is, I'm enjoying what I'm doing, and I'm able to provide more for my family," he said.
Happy anniversary
Nola's Rock Bar at 119 W. Main St., U, is marking its one-year anniversary with a party Oct. 2. There will food, door prizes, ticket giveaways and live music featuring the Black Eyed Lillies, Kilborn Alley and DJ Belley. Music runs from 4 p.m. to closing.
Weather permitting, the party will be both outdoors and indoors. Masks are required, and social distancing will be in place.
Home sales up
The Champaign County Association of Realtors announced August home sales in the county were up just under one percent, compared to last August.
There were 328 residential sales closed this past August, compared to 325 in August 2020.
The time homes were on the market averaged 31 days in August, less than half of the 75-day average the same month last year.
Here's more from the Champaign County Realtors group:
The median home sales price in August was $185,000, up 8.89 percent from August 2020, when it was $169,900. Median is the midpoint, with half the homes sold for less and half for more.
The average home sales price in August was $216,500, up nearly 13.4 percent from $190,531 in August 2020.

https://www.news-gazette.com/business/entrepreneurs/its-your-business-new-barbecue-restaurant-in-st-joseph-off-to-hot-start/article_080e497b-3875-5191-bcd4-ed3af8a0e1ae.html