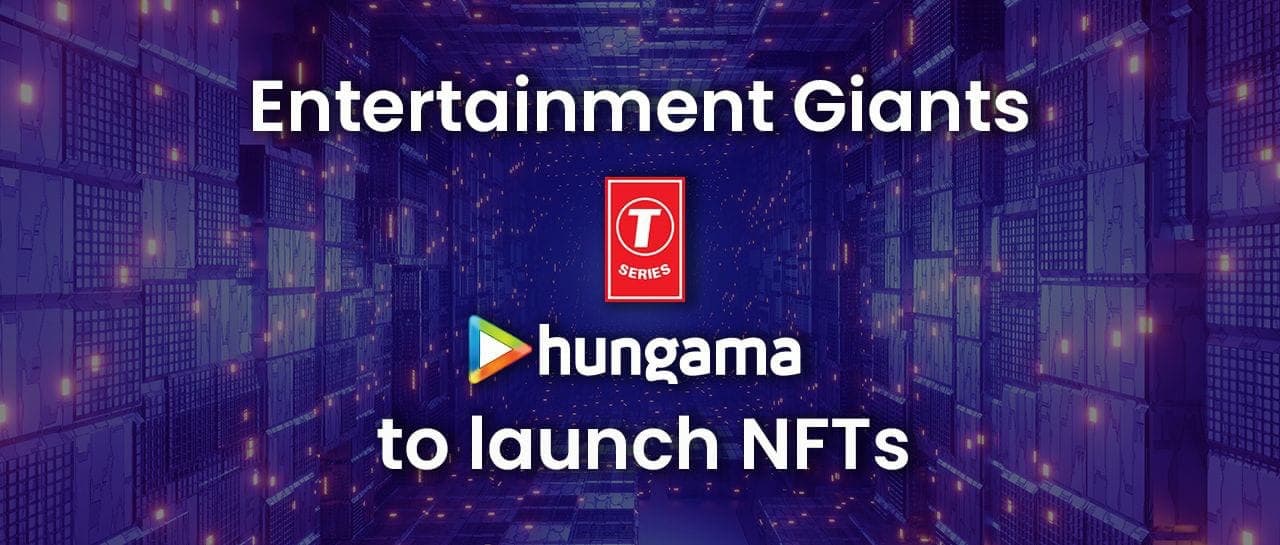 The global digital entertainment industry has shown phenomenal growth over the past few years raising the bar of entertainment creation and consumption like never before. Asia's largest publisher and music label, T-Series has announced a partnership with one of the largest digital entertainment company in South Asia, Hungama Digital Media to enter into the world of Web3, NFTs and Metaverse. It intends to capture the likes of the growing landscape of the digital economy and virtual world.
The collaboration between the industry leaders will cause a paradigm shift in Asia's entertainment sector as they work towards becoming valuable pillars in the NFT-metaverse ecosystem. The partnership aligns with Hungama's vision to curate a perfect union of tech innovation to entertain and engage users worldwide, alongside T-series, to redefine how digital content is created, owned, and explored.
The Metaverse and NFT space have exploded recently with the latest marketing strategies among premier brands across various industrial sectors. The new wave driving across the cryptoverse has witnessed more renowned companies delve into the NFTs. With a crucial metaverse move launching exclusive NFT collections, T-series and Hungama Digital Media are poised to bridge the gap between the crypto world and digital entertainment.
Leveraging Polygon Studios and their industry expertise, the leading NFT and gaming arm, Hefty Entertainment will spearhead a Web 3.0 initiative by Hungama, for the global digital entertainment sector to witness an unparalleled dimension of entertaining creations.
In an exclusive interview, Bhushan Kumar, Chairman & Managing Director – T-Series commented, "We're delighted to extend our alliance with Hungama, spanning two decades, and enable our community with access to the Metaverse. Having set the ball rolling, we look forward to expanding and enhancing the value of our content that leads to a further and rapid expansion of the global digital entertainment industry.
Unlocking Special Moments and Enhancing Experiences
T-series in association with Hefty entertainment is paving a creative path that will bring millions of individuals from across the globe to a potential blockchain-based entertainment metaverse. T-series and Hungama will leverage their extensive global distribution network and expertise with a catalogue of incredible content spanning 2,00,000 songs, 65,000 music videos and 150+ films across Indian languages to spread across the ever-expanding digital landscape.
"We are delighted to extend our long-standing partnership with T-Series and establish ourselves as first-movers into the Metaverse of entertainment. We look forward to redefining content consumption with this Web 3.0 initiative as we find new ways to collaborate and engage with fans. Our partnership with T-Series has strengthened with time. We're very excited to hold hands with them to enter the metaverse." Neeraj Roy, Founder – Hungama, shared.
Hungama remains one of the digital media entertainment giants in South Asia serving more than 90 million monthly active users across music, gaming, and videos in the entertainment space. As collaborative efforts with T-series which has the world's largest user base with 350 users and a massive following on different social media platforms.
Incentivized Marketplace to Fuel Digital Entertainment in the Metaverse
Backed by Hungama & Polygon, Hefty Entertainment is positioned to launch its incentivized NFT marketplace. The marketplace will primarily be focused on building an innovative layout in the growing NFTverse. The project will present captivating features to expand its marketplace and provide an exceptional experience for users in the global entertainment sector. Hefty entertainment will bring millions of people to the blockchain and crypto industry through dynamic NFTs, advanced utilities, unique functionalities, intuitive user experience and top-notch quality services in its metaverse ecosystem.
Leading Indian Entertainment Giants T-Series and Hungama Digital Entertainment to foray into the NFT & Metaverse Space in association with Hefty Entertainment