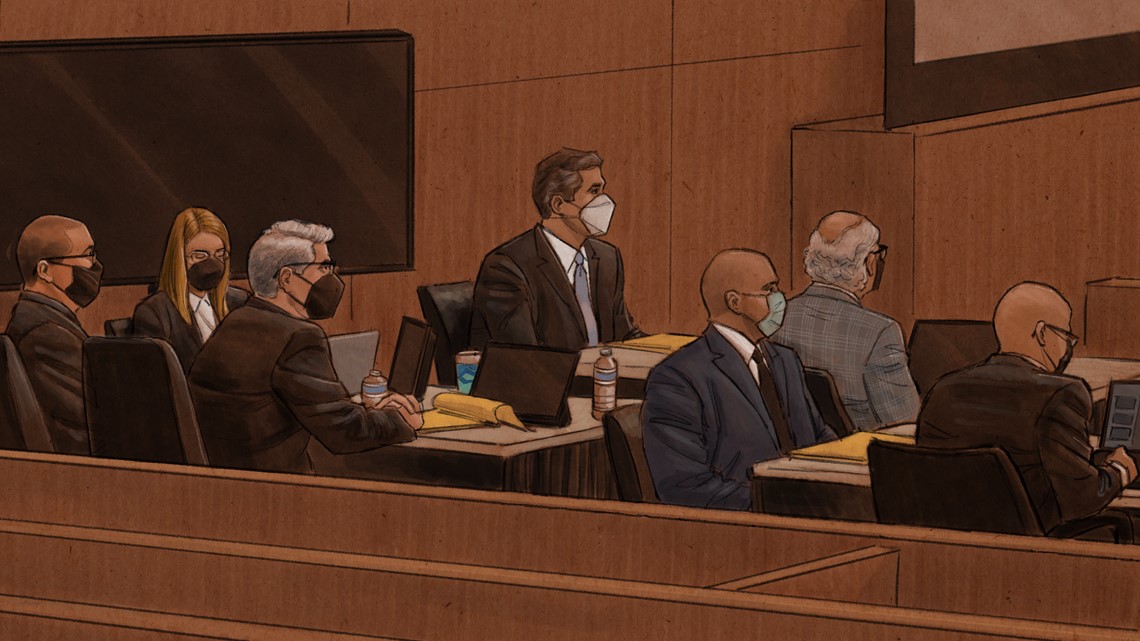 Officer Nicole Mackenzie testified that officers are taught to start CPR "immediately" if they can't find a pulse, and zeroed in on the officers' training
ST PAUL, Minn. —
MPD's medical support coordinator continues testimony Tuesday
Trial resumes Monday after multi-day delay for positive COVID-19 test

Doctor testifies that George Floyd's chances of survival would have been "near 100%" if officers sat him up earlier
Editor's note: The attached video originally aired on Feb. 7, 2022
The federal trial for former Minneapolis police officers Tou Thao, J. Alexander Kueng and Thomas Lane resumed Tuesday morning with testimony from the department's medical support coordinator.
The three ex-officers are all charged with depriving George Floyd of his civil rights on May 25, 2020, the night he was murdered by then-fellow officer Derek Chauvin. Prosecutors say all three should have intervened as Floyd's life slipped away, but none did. 
Officer Nicole Mackenzie testified that their actions were inconsistent with MPD policy, which she also testified to in Derek Chauvin's murder trial last year. This time, she spent much longer on the witness stand, centering much more of her testimony on training.
At one point, the prosecutor asked if checking a pulse is considered giving medical aid. Mackenzie told the court that checking a pulse is an assessment. And when asked what officers are trained to do if they don't find a pulse, Mackenzie told them officers are trained to begin CPR. She told them, "suggesting rendering aid and rendering aid are two very different things," when asked why the officers' response to Floyd was not enough.
"Merely offering a suggestion will not pump blood throughout your system."  
In cross-examination, defense attorneys presented training videos, show officers putting a knee to the neck like Chauvin did with Floyd. Further, the videos did not show them rolling the suspect to the side recovery position. 
Defense attorney Earl Gray was extremely sarcastic and dismissive in cross, pointing out two officers were in their first week on the job.
Court is scheduled to resume at 9:30 a.m. Wednesday.
Mackenzie returned to the stand after lunch to answer questions in cross-examination, which was led by Thao's attorney, Robert Paule. 
Mackenzie reiterated that she believed the use of Derek Chauvin's knee on Floyd's neck as a restraint was inconsistent with MPD training, and that she was never taught that tactic. Paule then pressed her on a controversial medical condition — excited delirium — and how officers have been trained to encounter a person who may be suffering from the condition.
Paule showed the jury documents explaining the definition and symptoms of excited delirium, and a video showing officers pursuing a suspect they believe to be suffering from the condition. Mackenzie testified that the purpose of showing the video to officers in training is to consider how regular compliance techniques might not work in that scenario.
Paule went on to question Mackenzie on various use-of-force training tactics before Judge Magnuson called an afternoon recess.
After taking the stand Monday afternoon to testify about her history with the Minneapolis Police Department and training background, Officer Nicole Mackenzie returned to the stand Tuesday to answer more questions. 
Officer Mackenzie is currently the MPD's medical support coordinator and testified about what officers are taught when it comes to giving medical aid.
According to KARE 11 reporter Lou Raguse, who is following the trial from the courthouse, prosecutors appeared to be "extremely methodical" with their line of questioning for Mackenzie. She testified that officers are taught to start CPR "immediately" if they can't find a pulse, and especially zeroed in on the training Tou Thao received as an officer.
During her testimony, Officer Mackenzie said if officers suspect a drug overdose they should administer Narcan immediately, as was not done in the case of George Floyd. Mackenzie also told jurors the response of both Lane and Kueng was "inconsistent" with MPD's training on medical care because, "I didn't see any efforts to move (Floyd) into the side recovery position." 
"Is checking a pulse giving medical assistance?" asked the prosecutor.
"It's an assessment," Mackenzie responded. 
"What should be done if they can't find a pulse?" the prosecution continued. 
At multiple points during the officer's testimony, the defense team objected to what they called "the needless presentation of the same video." Judge Paul Magnuson, who has taken prosecutors to task for repetitious questioning and putting too many people on the witness list, sustained the objection. "A word picture would be better than this repetitious showing of this video over and over," Magnuson told the court. 
Defense attorney Robert Paule, representing Tou Thao, had just begun cross examining Mackenzie when lunch recess was called. 
RELATED: Gov. Walz authorizes MN National Guard in Twin Cities
Monday, Feb. 7 recap
After taking several days off because one of the defendants, believed to be Thomas Lane, tested positive for COVID-19 last week, Dr. David M. Systrom, a physician specializing in the respiratory system at Brigham and Women's Hospital in Boston, was first to testify Monday.
The doctor told jurors he thought George Floyd died from asphyxia, brought on by two factors:
Derek Chauvin's knee on his neck
Insufficient breathing from being forced into prone position on the ground
Dr. Systrom testified that Chauvin's knee on Floyd's neck partially blocked his breathing, which is why he was able to say "I can't breathe." But then Floyd lost consciousness, and showed signs consistent with cardiopulmonary arrest.
The doctor told the court that Floyd was "in need of medical attention" before he lost consciousness and that the officers could have removed pressure to the upper airway caused by Chauvin's knee, and allowed Floyd to take a seated position.  
He also told the court that Floyd's chances of surviving the encounter would have been "close to 100%" if he had been repositioned before losing consciousness. 
RELATED: Pulmonologist: Floyd's detainment was a 'survivable event' if officers had responded
GALLERY: Federal courtroom sketches from the trial of three former Minneapolis officers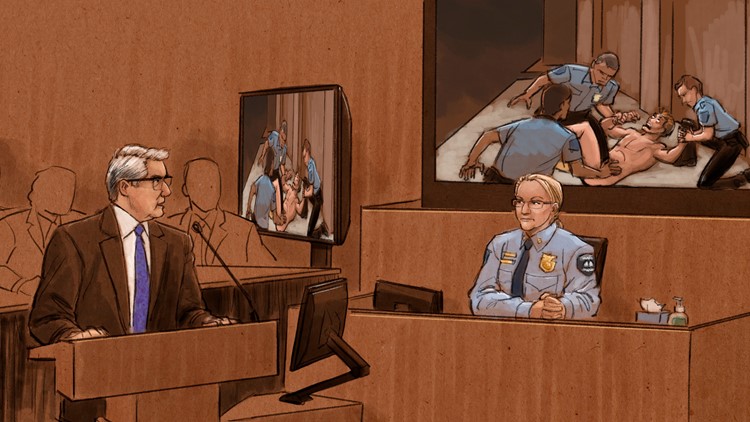 https://www.kare11.com/article/news/local/george-floyd/minneapolis-police-federal-trial-lane-tao-kueng-george-floyd/89-648c5913-8e24-4043-9526-ed8449267f0c