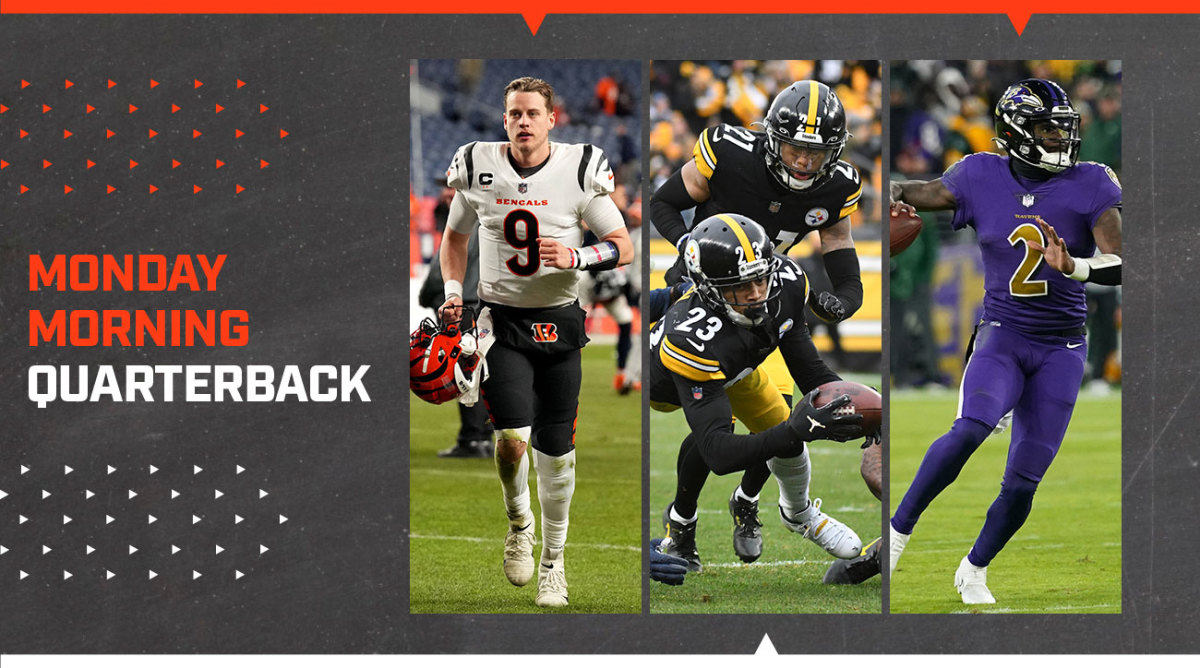 It just so happened that as the Bengals were making their way off the field in Denver, with a rugged 15–10 win coming back with them to Ohio, Packers punter Corey Bojorquez was lined up in his own end zone to punt the ball back to a hobbled Ravens team and give Baltimore a shot at one more miracle win.
It was about 7:17 p.m. ET, the Ravens were down seven and the AFC North race was, again, on.
But neither the Bengals' coach nor quarterback knew it yet. Nor, for the moment, did they care to.
It could wait.
"No, I knew zero—zero," said coach Zac Taylor, over his cell from the airport, as the Bengals boarded their charter. "That stuff matters if it's Week 18 and there's a playoff bid on the line, but we were concerned with us. We've always been focused on us. We're aware of at the end of the day what's going on around the division, but certainly not in that moment. We were cherishing that victory on the road against a really good football team."
"I don't think it really matters too much what happened this week in that game," Joe Burrow added. "It's all going to come down to these last two division games for us."
Taylor wound up getting the Ravens/Packers score from a reporter at his postgame press conference. Burrow didn't see it until he checked his phone coming out of the shower. And what they found out after the rest of us did was this: The race in their division had just pulled even tighter than it was before.
Long story short, Bojorquez's sideways kick gave the Ravens possession at the Packers' 49 to start their game-winning bid. From there, backup quarterback Tyler Huntley keyed a seven-play, 49-yard drive, with a scramble and two throws to Mark Andrews picking up first downs, to set the stage for Huntley's eight-yard run to make it 31–30. And then, John Harbaugh eschewed the chance to force overtime for a shot to win.
On the two-conversion attempt, Huntley rolled toward Andrews, who was covered by Eric Stokes by the front right pylon. As he let go of the throw, safety Darnell Savage Jr. drove on the ball and just got his fingertips there in time to make the ball flutter past Andrews and propel the Packers to a one-point win.
It dropped the Ravens to 8–6 and moved the Bengals into a first-place tie with them. Meanwhile, the Steelers won too, and that puts Pittsburgh, at 7-6-1, a half game back of Baltimore and Cincinnati. The Browns are 7–6, play the Raiders Monday night and will wake up Tuesday morning either in first or in last.
That leaves all four teams within a half game of each other going into the final stages of Week 15, which is great for all of us on the outside.
And for those on the inside like Taylor and Burrow? The blinders come off this week.
For good reason, too.
---
We weren't lacking for news this week. And so we have a lot to get to in this week's MMQB. Inside the column, you'll find …
• The identity of the Dolphins' secret weapon on offense.
• A look at Dan Campbell's turning the Titanic in Detroit.
• More on Jonathan Taylor's big Saturday night.
• How the Saints stymied Tom Brady.
But we're starting with the unhinged AFC North, which is a microcosm of the league in 2021—full of teams that are up and down and all around.
---
The rest of the schedule gives each team two division games, and one nondivision game. The Ravens are in Cincinnati in Week 16, with the Browns going to Green Bay and the Steelers hosting the Chiefs. In Week 17, Cleveland's at Pittsburgh, while the Bengals host the Chiefs and the Ravens host the Rams. And in Week 18, Cincinnati is in Cleveland and Pittsburgh travels to Baltimore.
It's a lot to consider and, for now and after Sunday, there's very little telling what'll happen.
Which, really, is the beauty of it.
"At the beginning of the season if someone says, 'Hey, you're gonna play three games and you're in control,' we would sign up for that," Taylor told me. "Because we got a lot of faith in this team, and now it's just up to us to go win. We don't want to count on other people. We want to go win. And just this division, I gotta believe it's the most respected division in football. It's four teams that are good in all three phases. There's really not a weakness I feel like in any of the teams, and so we take a lot of pride in being a part of this division.
"We take a lot of pride now in winning games in this division, because we saw how hard it was our first two years. And so, again, there's gonna be no let-up from us."
There can't be, after how Week 15 played out. And it started, really, with the division's old warhorse reemerging in the early window.
---
Pittsburgh didn't get the kind of the start Sunday that anyone would've wanted in a high-stakes game. The Derrick Henry/A.J. Brown–less Titans raced to a 10–0 first-quarter lead, and went up 13–3 at the half. At that point, Pittsburgh had just five first downs, had been outgained 159 to 103 and the defense, once again, had not been its playmaking self.
And really, as some players saw it, that'd been a yearlong thing. Sure, T.J. Watt came into the game with a league-leading 16 sacks. But a defense that had 11 multi-takeaway games in 2020 came into Sunday with just two games of even two takeaways in '21, and that needed to change. So the group addressed it.
"We had extra meetings, with T.J., with Minkah [Fitzpatrick], with myself," corner Joe Haden told me. "We're locked in. We know right now, like you said, there's nowhere to go. We can't lose any more games, so we just gotta go right now. We're just completely dialed in and trying to make as many plays as possible."
The key, Haden said, was to increase on-field communication and, for one reason or another, the second half on Sunday is where everything finally clicked. Here's a look at how each of the Titans' second-half possessions ended.
• Tennessee's first second-half possession short-circuited near midfield when, on second-and-9, Alex Highsmith and Terrell Edmunds tracked down Dontrell Hilliard in the backfield and dropped him for a four-yard loss.
• Tennessee's next possession ended when Cam Sutton ran down wide receiver Racey McMath in the flat as the ball was coming to him, jarred it loose and Haden caught it clean in the air with what looked like go-go gadget arms. "Cam's side was cutting my man," Haden said. "And when he actually hit him, the ball popped in the air, so I was just running across and I saw it in the air and just dove for it."
• The Titans' third possession crashed and burned when a Ryan Tannehill throw got tipped by Taco Charlton and then collected for the pick by ex-Brown Joe Schobert.
• Possession No. 4 for Tennessee ended with a fumbled exchange recovered by Watt.
And all of that, plus the offense's scratching things together, and grinding to a 19–13 lead, set the stage for the Steelers' defense to make one last defining play on the Titans' fifth possession of the second half. Tennessee drove 59 yards to a fourth-and-7 at the Steelers' 16, and based on how the Titans broke the huddle, Haden had a feel for where they might go with the ball.
"We had three receivers to my side," Haden said. "My other receiver started running inside, so I thought he was setting a pick for No. 2 to run a wheel. So I just kinda stayed on the 10-yard line and just shuffled down, and then when Tannehill threw the ball to my receiver—I knew. He caught it in front of me, and I said as long as I tackle him going backwards toward the quarterback there's no way he can get the first down."
The ball, like Haden said, came out quickly, and to Titans slot receiver Nick Westbrook-Ikhine. And after he ID'd it, for Haden, the play became about physics—defending the line to gain, while positioning himself not to lose any ground when the receiver would try to run through him and past the marker.
"I'm just staying short. I didn't backpedal at all," Haden said. "I was probably eight yards off of him and just shuffled across. He ran a six-yard route, so when he caught it, I just knew I needed to tackle him and not let him forward. … Anything in front of us, you lose. So I was just making the receiver have to take me past the first down. He never did that."
No, he did not. Haden stoned him just short of the 10. Initially, officials signaled for a first down, and the Titans hustled to line up before there could be a measurement. But, in Haden's words, "I knew." And someone upstairs clearly did, too, stopping play, allowing for a review and, in effect, ending the game with a fifth straight Tennessee possession ending on a huge play for the defense.
Which, the Steelers hope, will finally put the 1-3-1 stretch they just endured to bed and give the team a little more of the type of identity it's used to carrying.
"I think this can be it," said Haden. "We're rocking. I think we're just now hitting on all cylinders, we're communicating, we're not having any busts and I think the rush and coverage are working together. So T.J.'s up there, and Minkah there in the back with Cam up there. So everybody now, we're working together."
And as a result, they're now 7-6-1, with a real chance to win the division again.
---
Meanwhile, in Denver, the Bengals were dragged fairly early on into the kind of rock fight that the Broncos wanted to get them into. The defenses carried the first half, and it was clear then that the game might come down to a handful of plays. And while that made for a more difficult afternoon, it also brought about opportunity—mostly to show everyone that the Bengals who were at Mile High on Sunday weren't the same old anything.
"This is a brand-new team," Taylor said. "This feels like a new year for us. Big years I've had in the past, it feels the same way. These guys are about the right stuff. They understand what's in front of them. They understand how hard it's gonna be and how hard it's been, and they don't back away from a challenge. And so, again, people say 'same old,' whatever. This is a team that's really hungry, and we're gonna fight everybody we go up against."
And that new team showed up in a big way at three critical junctures on Sunday in Denver, to set up the 15–10 win.
The first came at the end of the first half. The game was tied at three, and with nine seconds left, Brandon McManus missed at a 51-yard field goal. That set the Bengals up at their own 41 with a timeout left. Taylor didn't hesitate on how to handle it. "We're gonna be aggressive at the end of the half. We have been all year. We've gotta rank up there in points in the two-minute drill because our guys just have so much confidence, and Joe does such a good job handling those situations."
Taylor's confidence in his guys paid off here. Burrow took the snap and quickly unloaded the ball into the middle of the field to Tyler Boyd. Taylor thought, with the wind at the Bengals' backs, Evan McPherson would be good from 60. The 19-yard gain and dive (the Bengals call it a down-down, where the receiver hits the deck after the catch to save time) put the kicker 58 yards out, and McPherson was true from there.
"I think that they were kind of just expecting us to take a knee and go into half," Burrow said. "And then they called timeout and started playing some prevent defense. So I knew the middle of the field was gonna be open in that situation and that's what T.B. does best. … Zac has a lot of trust in me to be smart with the football in that situation, and it's not bad if you take a sack right there and then you just go into halftime. But T.B. got open for me and it's a great situational awareness by him, understanding the time on the clock and not having to run after the catch."
So that gave the Bengals a 6–3 lead at the break.
The next big one came roughly a quarter later. Teddy Bridgewater had gone down with a terrible-looking head injury (more on that in a bit), and Drew Lock rallied the Denver offense to a touchdown in the aftermath, putting the Broncos up 10–9 on a scramble-drill 25-yard touchdown strike to Tim Patrick.
Momentum had shifted. Maybe the old Bengals would've crumbled. The new Bengals did not.
Two plays later, Burrow found Boyd wide open down the left sideline, and one cutback later, he was free for a 56-yard touchdown—thanks in large part to the coaches' hustling the offense back to the line so the defensive call would stay stagnant (and susceptible) coming off a 12-yard run from Joe Mixon.
"That's credit to Zac for seeing what we were getting when we got a little tempo going in this game, and got to the ball quickly and snapped it," said Burrow. "Credit to him and our coaching staff for seeing what they were doing to us in those situations and getting that call off the sheet. That's a great call against that defense that we were seeing, so all credit goes to the coaching staff on that one."
"We were having some success with our wide-zone runs," Taylor said. "And the safety was coming down pretty hard, trying to help stop those, and so we felt like we had the counter to it. Just stayed on the ball, tried to get them in that same call that they were just in and it worked out. If you can run the ball, even when you're not running the ball for 150 yards in a game, there's still the effect it has on a defense. You get easy play-actions to complement it.
"And it paid off for us there."
The final of the three plays came on the following possession—the Broncos drove from their own 27 down to the Bengals' 9, where they had a second-and-goal with 10:39 left. And at the snap, as Khalid Kareem came screaming at Lock off the edge, a message from halftime resonated.
"That's what we talked about at halftime—a turnover is gonna win us the game," Taylor said. "And it sure as hell did."
On the play, Kareem was the unblocked defender on a Denver zone-read call. Lock appeared to read it wrong, with Kareem staying home, and kept the ball. The quarterback tried to juke the defensive end. The defensive end responded by snatching the ball out of his hand. It'd be the last time the Broncos would get into Bengals territory.
"They got a couple third downs by the skin of their teeth, and you kept feeling like our defense had really controlled the game and they were gonna make the play to win it," Taylor said. "And so they get there in scoring position, and Khalid makes a play. You didn't know who it was gonna be, but it just felt like we were due and someone was gonna make the play—and he sure did."
And in coming through on defense, the Bengals showed, really, the biggest difference in this group versus the last few in Cincinnati.
"We can win a lot of different ways, and that's different from years past," Burrow said. "We can put up 40 if we need to. We can also win an ugly game 15–10 on the road in basically a playoff environment. And I think that's the sign of a really good team. I think we've left some wins on the board earlier in the year, but we've got everything in front of us down the stretch with these last three games. And I'm excited to try to take care of business."
Indeed, now, it's on.
---
Things, of course, didn't work out quite the same way for the Ravens on Sunday. And we'll see where things go with the COVID-19-wracked Browns Monday night.
But this much we know: Everyone's gotten a chance to reset now. Everyone's alive. Everyone controls their own destiny. We'll get to see who's real and who isn't.
And as Taylor sees it, a lot will come down to the makeup of the division he's gotten to know the last three years.
"You gotta play really smart, you gotta be situationally sound," he said on the AFC North, "and there's gonna be a lot of collisions you gotta be ready for."
Lucky for us, there are some big ones coming.
---
WILKINS WORMS HIS WAY INTO GAME PLAN
This was well after Christian Wilkins's big moment, after the 6′ 4″, 310-pound behemoth unleashed the worm on the Jets, and a full hour after the Dolphins had completed their perfectly imperfect—and big—31–24 AFC East win at Hard Rock Stadium.
As Wilkins drove home from the stadium, his phone was still blowing up. Rightfully so.
Wilkins is used to having the ball in his hands, but it had been a while. His first NFL big-guy touchdown (or thicc six, if you prefer the newer term) came on Dec. 22, 2019, at the end of his rookie year. That stood until Sunday, nearly two years to the day later, as his only career target, catch or score. And that wasn't for any lack of campaigning.
Over four years at Clemson, Wilson totaled six touches from scrimmage for 45 yards when moonlighting as a goal-line/situational fullback. He scored twice on the ground and once as a receiver, and it all added to the legend of a guy with a prototype build for an NFL defensive lineman who could also do a split. Here's the other thing about it all: Wilkins really liked playing offense, too.
"I've been working on the JUGS machines after practice with one of the coaches, so they can see my skill set, and I've been lobbying all season to get a pass," Wilkins said, laughing on the ride back to his place. "I always throw a little joke here or there, like, When's my play going to come? Or I'm one-for-one in the NFL for catches, I'm 100% in my career on receptions. It's just little jokes like that. I guess they looked to me—finally.
"It's cool I was able to make a play today."
Even cooler? This wasn't some novelty act.
Brian Flores and play-caller George Godsey sent it in on the third snap of the fourth quarter, with the game tied at 17. If the ball bounces off the sure hands of Wilkins and goes the wrong way, we may be talking about something different this morning—and therein lies the risk in throwing it to someone who isn't drawing a paycheck to catch it. But the coaches trusted Wilkins, and for good reason.
As the Clemson staff would tell you, he's sort of natural at it to begin with. And beyond just that, when you talk to him about it, it's not hard to tell that while Wilkins may joke about his ability to do it, he's pretty serious when it comes to actually getting ready to pull it off. Hence his description of what happened on the first-and-goal from the 1 with 14:27 left in the game.
"First of all, I was just excited to make a play for my team, and obviously help us get the win today," he said. "But it was real simple. I just looked at the coverage. I felt my guy, I had to fake him inside because he had inside leverage on me. So I had to jab like I was going inside, then I went outside, and it was wide open right there. Tua [Tagovailoa] threw me a nice pass."
Advanced receiver technique for a D-tackle?
"Yeah … I had to play on the right foot—don't forget it! I have him inside, release outside," Wilkins continued. "It was just simple. I just had to route him up, as they say."
And funny as the whole situation (right down to the celebration) was for everyone, it actually did the job in illustrating just how the Dolphins got here: with all hands on deck.
Coming back from 1–7, and effectively dead, to 7–7 isn't just rare. It's basically never been done. In fact, the 1994 Giants are the only other team in NFL history to follow a seven-game losing streak with a six-game winning streak (that group, led by Dan Reeves and Dave Brown, went from 3–0 to 3–7 to 9–7). Next week, with a win in New Orleans, Miami can become the first to win seven straight after losing seven straight.
As for how the Dolphins did it, the answer, again, is every which way. It is, to be sure, behind highly-drafted/paid guys like Wilkins, Jerome Baker (two sacks on Sunday), Mike Gesicki (five catches, 43 yards), DeVante Parker (four catches, 68 yards) and Tagovailoa (16-for-27, 196 yards, 2 TDs, 2 INTs). But it's also happening with Miami leaning on scrapheap pickups like Duke Johnson (22 carries, 107 yards, 2 TDs) and Zach Sieler (whose strip sack halted a Jets drive that started with gains of 24 and 20 yards in the fourth quarter).
Wilkins's side work on offense fits into all of that, too, in that it's another example of the team's resourcefulness—which was needed in a major way back in October, when the losses were mounting and questions were asked about the future of, well, just about everyone, including Flores, Tagovailoa and GM Chris Grier.
"I don't know necessarily if there was a turning point, per se, but it was just the consistent desire and the consistent work by everybody involved to continue and try to get better," Wilkins said. "When we were on that seven-game losing streak—or whatever it was—we were still just sticking together. We came in the building everyday with good energy. Guys still loved being around each other. We didn't point fingers.
"So that's what led us to winning some ball games."
Of course, things won't get easier from here. Five of the six wins during the streak have come over four teams with nine, 10, 10 and 11 losses, respectively (the Ravens are the one exception). Conversely, the Dolphins finish the season with a trip to New Orleans, then games against the division-leading Titans and Patriots.
The good news is that the last three months have shown Wilkins, and everyone else, that there's at least right kind of guy in the locker room to get it done—something the Dolphins know because it's a big part of what's got them this far.
"Flo always talks about it, that the type of guys who you're working with on the team are smart, tough and disciplined," Wilkins said. "And he says, if you don't have those qualities, you don't have those traits, then you wouldn't be here. … The coaches typically create the mindset for the team, and I feel like we got a lot of those guys who are just smart, tough and disciplined. We just got a bunch of fighters."
And just like Wilkins fought every which way to get the ball again, the Dolphins have pulled every lever to fight their way back in the race. Things get tougher from here. But the fact that those upcoming games even mean much, given where the Dolphins were two months ago, says a lot about how far they've come, with the bumpy path they've taken saying a lot about who they are.
---
TEN TAKEAWAYS
Two of my favorite plays from Jonathan Taylor on Saturday night didn't even involve his getting the ball. The first was on the Colts' first touchdown—the Patriot Special, as Frank Reich dubbed it. On the play, Taylor took the snap, handed off to Carson Wentz, and Wentz then flipped the ball to Nyheim Hines. That positioned Taylor as a lead blocker for Hines, who went running toward the far right pylon. As Hines started to cover ground in that direction, Taylor found work, eventually engaging Patriots corner J.C. Jackson and driving him through the goal line to clear the way for his buddy's eight-yard touchdown.
The second came with 10 minutes left in the first half. Patriots linebacker Dont'a Hightower, all 260 pounds of him, blitzed down main street. Taylor carried out a play fake to Wentz's right, then saw Hightower coming to his left, doubled back and cut-blocked Hightower to get him out of the play. That bought time for Wentz to step up. Wentz did, then hit Zach Pascal for 23 yards to set up a field goal that made it 17–0. And while the two aforementioned plays won't make highlights, they do reveal why the Colts think of Taylor in the way they do.
"It's really good being able to be available and to be able to be an all-around back," Taylor told me postgame. "You gotta be able to pass protect, you gotta be able to protect the quarterback and you gotta be able to protect all the running backs while you're running the ball. So it's definitely understanding that you have to be able to do multiple things and not just be a downhill runner."
But when he's got the ball in his hands? We saw again on Saturday night that he's as good as anyone in the sport. The challenge for both the Patriots and Colts going in was to stop the other's running game and force the opposing quarterback to beat them. Indy accomplished that, holding the Patriots to 81 yards rushing, and Mac Jones damn near did actually beat them, in battling back from a 20–0 deficit. New England, on the other hand, couldn't check the box it needed to, with the Indy run game's rolling to 226 yards on the ground, and the Colts' winning by 10 despite Carson Wentz's putting together a hard-to-watch, Philly-flashback kind of night (5-for-12, 57 yards, TD, INT, several near-INTs). "I think [winning without much of a passing game] just shows that we're going to play all four quarters, 60 minutes, we're not gonna let up and we're gonna play hard-nosed Colts football," Taylor said. "And I think that's just the biggest thing, is understanding that. We know nothing's going to be given to us, everything is going to be earned and it's gonna be a dogfight every game. From here on out, it doesn't get any easier."
And really, it wasn't easy for Taylor on Saturday either. For most of the night, he took the drips and drabs, always seemingly a broken tackle shy of the big one—and that left him at 103 yards on 28 carries as Indy lined up for second-and-8 from the their own 33 with 2:11 left. By then, Jones had led the Patriots back and closed the deficit to 20–17 with gut-check throw after gut-check throw. And that's where, finally, Taylor popped one and put his foot on New England's throat. As he approached the hole, both Hightower and Devin McCourty were waiting for him. Taylor shot his eyes outside, then busted back inside and wasn't touched again, winning a footrace with Jackson on the other end of the 67-yard burst. "It was really seeing the defenders in the hole, knowing where my key blocks are and being able to shave and cut off that block really tight," Taylor said. "And then it was something that we worked on all week at practice, given the type of players and personnel that they had, and how they like to play the run. And being able to finish, when it comes down that stretch and you get in the open field, it's being able to finish."
Asked to expand on what he'd taken advantage of with New England's defense, he basically added that it came down to the personnel the Patriots had on the field, and how he could take advantage of angles to outrun them. And outrun them, he clearly did, to put Indy right back in the mix.
"It's amazing, especially given the history between the two teams, just being able to go out there and put this one in the win column," he said. "We knew nothing was going to be given to us. We knew it was going to be earned. But that's just the mentality that we had. We had to come in and set the tone." The tone, for sure, was set by one team and not the other on Saturday night, and now those Colts are sitting at 8–6 with all their goals in front of them. And one of the best players in football is leading the way as they try to go get those.
Dan Campbell's team is starting to turn the corner. And I know it got tired to hear how the Lions went from 05 to 0–8 to 0-10-1 and were still "fighting" for Campbell and his staff—but the last few weeks have shown it to be true. They beat the Vikings at the wire in Week 13; hung for three quarters in Denver despite dealing with COVID-19 and the flu in Week 14; and, then, this week, routed a team that came to Detroit with the best record in football. Lions 30, Cardinals 12 would've been a jarring thing to read a couple weeks back. It's less surprising now, and not just because Arizona's sliding a little.
"I don't think it's really any different than the first one," Campbell told me from the locker room. "Just like Minnesota, we did what we had to do to win the game. … Defensively, we were able to bottle Kyler [Murray] up a little bit. Man, we played great red-zone defense, and we got off the field on third down. And then offensively, we were able to possess the ball, run it. We were able to hit some shots in the pass game and score some touchdowns. And we tried to stay aggressive in all three phases, and we did that and it paid dividends today."
So all that, against Arizona, is pretty much what any coach would want. What's interesting about this one is who was executing it. CB Amani Oruwariye, a former fifth-round pick, had a massive, diving third-quarter interception to help the Lions pull away. Ex-first-round bust Charles Harris had a sack and a half. And RB Craig Reynolds is on his fourth team, had one career carry when the Lions pulled him up from the practice squad before the Denver game and wound up going for 112 yards on 26 carries against Arizona.
"Look, guys get an opportunity here," Campbell said. "[GM] Brad [Holmes] and I, we say it every week, it's like, 'Hey man, if you're a young guy, you don't want to be anywhere else but Detroit right now because it's next-man-up.' Between the injuries we've had, or COVID, or flu, or whatever the case is, you're gonna get an opportunity, man. … Craig's gotten an opportunity and made the most of it. [D'Andre] Swift was hurt and Jamaal [Williams] is on COVID and so you're kind of like, 'Well, we'll find out.' … Every day in practice, man, against our defense, he just shows it and shows it. So when it was his time, and we thought we were gonna get him up, I mean nobody even batted an eye. We were like, 'This kid is gonna go in there and probably blow it up,' and he has."
Now, of course, there won't be any playoffs for Detroit this year. Season 1 for Campbell and Holmes is over in 20 days. But that doesn't mean real strides haven't been made. And that's been true for some time. It's just finally starting to show up in the win column, with the idea being that the foundation for bigger things is being laid. So yeah, Campbell has let himself think about the day when he'll look back at this year fondly.
"We actually talk about it all the time," he said. "It's really about everything. It's like we're gonna look back on this and say, Man, remember when we had all those injuries, or Remember when we had to deal with COVID? Or Man, remember that game when we had to … And so yeah, all of those things we do think about, and we think that we're kinda shaping who we're gonna be and what we are. And the beauty is right now, with what we're getting and the effort that is coming from these guys, you see here we are, they're continuing to play and we get a big win against Arizona. It's, man, don't forget we got a ton of young guys now that are learning and they're growing, and they're seeing this like, 'Hey man, no you don't give up. You just keep going. There is hope. There is belief that if we do it the right way, this is what we can do and become.' And so those guys next year will be a year older and a year more mature and more experienced, and yet they're learning these valuable lessons right now on being resilient." And it's easy to see how everyone will benefit from all of that.
Saints defensive coordinator Dennis Allen put together a nice résumé reel on Sunday night. And we're going to have a lot more on his plan for slowing down Tom Brady in the MAQB later on Monday. But for now, that 9–0 win over the world champs stands as a nice piece of evidence that Allen—who got the Raiders' job at 39 in 2012, and only lasted 36 games—is ready for his second shot. So I figured I'd ask him how he felt to be back out there as the guy in charge. "This was totally different. It was totally different," he told me. "Look, it felt good to be back in front of a whole team and trying to lead the whole group of men to go out there and perform. But it's totally different when it's not your team and you're trying to get them to go out and be at their best. Man, I was so proud of the way that all these guys responded. The players, the coaches, everybody. It was just awesome to watch everybody just come together and play the way that we did and compete the way that we did. Look, we didn't know whether we were gonna win this game or not, but I knew we were gonna play hard. And that's what we did, and it was just fun to be a part of and awesome to see."
Cam Jordan and Allen's defense—he's been coordinator in New Orleans since 2015—carried the night and kept the Saints in the NFC hunt, at 7–7. And Allen got another bullet point for teams to consider in a couple of weeks. As for Sean Payton, who was sidelined after testing positive for COVID-19? "I called him basically as soon as the game was over, and he couldn't be any more excited for us," Allen said. And judging by how the Saints played, and responded to Allen, it's easy to see why.
We got a few more sobering reminders on the realities of football this weekend, with Chargers TE Donald Parham's and Broncos QB Teddy Bridgewater's both getting carried off the field on stretchers, with their facemasks screwed off and stadiums around them silent. Parham's head hit the turf hard as he dove for a Justin Herbert throw at SoFi Stadium on Thursday night. Bridgewater had a Bengals defensive lineman crash into his lower back as he crashed into the ground in Denver on Saturday. Both injuries stopped play for a substantial amount of time—and had an impact on every player on the field with those guys. "It's scary because you saw it earlier in the week when [Parham] hit his head [on the turf]," said Broncos edge rusher Bradley Chubb. "You see Teddy lying there and you wish for the best at the time, and when you see him turn over and move his hands a little bit, you know he's O.K. But it's still traumatic to see our leader go down."
Somehow, after the injuries, both the Chargers and Broncos, though they lost, played incredibly competitive games, and they deserve credit for it. I can't imagine how hard it'd be to stay in the mindset you need to be in to play football after seeing something like that. That said, the prognosis for both seems to be O.K. at this point.
Aaron Rodgers is great, but I don't think you can overlook the job the Packers have done building around him. And yes, as we said, Baltimore is as beat up as any team could be, and that contributed to Sunday's outcome. But the Packers' offensive line, sans David Bakhtiari, Elgton Jenkins and Josh Myers, is in 1987 strike condition; the defense was without its three best players (Za'Darius Smith, Kenny Clark, Jaire Alexander); and that's without getting to the losses of role players like Randall Cobb. And yet, the Packers scored a win over a playoff team on the road, with Darnell Savage making a monster play to close the Ravens out. Add that to how he had to manage all the drama in the offseason, and really play middleman between his bosses and quarterback, and I don't see how Matt LaFleur wouldn't be the front-runner for Coach of the Year. He's now 37–9 (39–11 including playoffs) over his first three years as Packers coach.

The NFL's COVID-19 protocol changes this week are, without question, a step back to normalcy for the league and for pro sports. One thing that was clear to league officials over the last week was how, for all sports, the most recent wave of cases represented a flash point in the management of the pandemic across all leagues. The omicron variant, as NFL chief medical officer Allen Sills told the owners last week, is a more contagious strain that generally has had a milder effect on those infected. Which could translate thusly: It was going to be a bigger problem for the leagues for less of a good reason. That is exactly why the NFL, and other leagues, saw the common-sense opportunity to take a step back, and another toward our pre-2020 world, to focus on treating symptoms rather than chasing the virus. The question was who'd jump first. And without the advantage it had in the spring of 2020, of letting things play out while in the offseason, it's obvious why the NFL felt compelled to jump. That said, it led to some interesting circumstances for the teams affected.
The Raiders found out their Saturday game was being moved to Monday afternoon with everyone gathered in the team's cavernous fieldhouse, with bags and busses ready to go. They had an 11:15 a.m. local time departure set, were told to hang tight around 11, then got word of the change between 11:25 and 11:30. And as for the Browns, they'd already gone through their day-before-the-game walkthrough and were gearing up for the evening's virtual meetings at 2:30 p.m. ET. Those wound up getting called off, and coach Kevin Stefanski decided to just repeat Thursday's schedule on Saturday (a lighter, situational practice and meetings), and Friday's schedule on Sunday (the walkthrough and meetings), with the customary day-before hotel stay for players optional, because the team was in intensive protocols. Similar scenes played out in L.A. and Washington, and Seattle and Philly.
So how do things change now? It's simple. Vaccinated, asymptomatic players will only be spot tested. Unvaccinated players (that's just 6% of the league) will stay in the COVID-19 protocols. And completing the season, which is the goal here, should be much easier for everyone.
While we're there, the Washington Football Team's data on its 26 COVID-19-positive players is interesting. Dr. Anthony Casolaro, Washington's head physician, said on a media call this week that just two of the 26 would've been removed from the team facility because of symptoms—a sign of the milder effects of omicron that Sills referenced. But that's not the only piece of information Washington has that I found interesting. The team looked through the history, I'm told, and found that the vast majority of players who popped positive tests last week were vaccinated in June or before; and they also found in those cases the CT (cycle threshold, a measure of viral load) numbers were bad. Conversely, the few who tested positive and were vaccinated since July had better CT numbers and, thus, a better shot at qualifying to play on Tuesday. And on top of that, Washington didn't have anyone who got the booster test positive. All of this points to the effectiveness of the booster shot, which Sills and the league touted while things got really messy over the last couple of days.
So Washington will go forward with that knowledge and hope it can push more players to get boosted. In the short term, of course, it did have an effect, but the hope internally is the team will be in a good spot on Tuesday to face the Eagles. In reaction to the rescheduled game, the coaches toned down Friday's practice to a walkthrough pace. Then, on Saturday, they repeated their Thursday routine, doing sub-package (nickel, dime) work at three-quarters speed. And Sunday they had an up-tempo practice, going through their Friday work again (situational stuff like red zone and third downs). So they might be shorthanded in Philly, but they won't be unprepared. And as for how shorthanded they'll be? A few more guys could be activated Monday (Taylor Heinicke is one of those trending in the right direction; he might just make it).
I do have some final thoughts on Urban Meyer. I got a lot of it out there in my Thursday column (it was on top of last week's mailbag, but here are five more for you to chew on.
1) The first big sign of trouble internally came after the Jags' first preseason game, which they lost 23–13 to the Browns. They trailed 13–0 at the half, and 16–0 after three quarters, before backups made the score closer in the final frame. Meyer reacted by tearing into people—"It was really over the top, and you could tell all this was new to him," said one staffer—in a way that NFL coaches don't after preseason losses. It was then that it became clear to others that he'd identified weak links among the coaches, and that they were mostly on offense. (Meyer largely left Joe Cullen and the defensive staff alone.) And Meyer made it uncomfortable on those guys, which only worked to fracture a building that hadn't yet melded around its head coach.
2) The reaction to the preseason loss was also a sign that what we all knew about Meyer coming in did, indeed, become a problem: The guy doesn't handle losing well. And in a league in which a four- or five-loss season puts you among the elite, and coaching a team where 10 losses would've equaled a six-win improvement over 2020, the idea of Meyer's coming unhinged was probably predictable. I asked him about the idea of all that over the summer. Now, looking back at his answer, you can actually see it. "I am training my mind," he told me. "I can't stand losing. This doesn't mean I'll accept it. I don't want players here accepting it. But that's also reality. So I've been training my mind. We lost our preseason game, and I keep hearing, 'It's just a preseason game.' Well, we lost. Our objective as long as they're keeping score is to win." Meyer then said, "I get it. I've been working on it." Clearly, that issue was real.
3) I think Meyer's done coaching. Maybe he'll surprise me. But I think the meat grinder that is recruiting, which has only become more intense with the advent of the transfer portal and NIL, will keep him away. In that interview over the summer, Meyer cited a conversation he had with Jimmy Johnson on why he decided to come back, and why it didn't happen at the college level. "I just felt an emptiness, and I had some opportunities in college," Meyer said. "And he made a comment to me, 'You've reached a point, just do what you want to do.' And do I really want to go recruit 24/7 like it became? I've done that." I think it'd be hard for him to go back to that, especially if it's not at one of the powerhouses he got used to coaching. (I'd be surprised if a real blueblood would bring in Meyer at this point.)
4) Even with Trevor Lawrence in place, the Jaguars' job isn't as attractive as it was a year ago, when the team was flush with draft picks and cap space. Yes, there's still money that can be spent, but the war chest of picks isn't nearly as full, and last year's free agents and draftees are on the front end of contracts. Also, you've got Shad Khan himself, who's gotten the benefit of the doubt a lot, but hasn't accomplished much in a decade of ownership. It's fair to have questions on that if you're a candidate, looking at a boss who hasn't been the most engaged owner in the league to begin with.
5) The other day, ESPN's Adam Schefter posted a list of college coaches who've gone to the pros. And what it showed was five out of eight since 2018 have failed to make the playoffs, and only one, Jim Harbaugh, coached in a Super Bowl. But if we take a deeper dive, you can throw Pete Carroll's name on the list and add Doug Marrone's trip to the AFC title game with the Jags, and the numbers change. Now five of nine have made it, and it'll be six of nine with Kliff Kingsbury almost assured of getting there this year. And I think that makes it fair to ask a simple question: Is the track record of hiring retread NFL head coaches or taking a shots on hot coordinators any better? Bottom line, getting it right is hard. And I don't think any team should necessarily rule out every coach from a certain category in pursuit of getting it right. That's just my two cents. But I would say that if I were one of these coaches at the college level on an eight- or 10-year deal, seeing how the NFL chewed Meyer up and spit him out, I'd be careful about where I'd be taking that step up to the pros.
In the end, as I said Wednesday, this boils down to something simple. If you're going to coach like Meyer does, you better get buy-in quickly. And you have to win fast, because if you don't, people aren't going to have patience for it. And in the NFL, once you start losing guys, with the access people have to get word of it out there, it's almost always going to be over for you.
Meyer told me in August that selling his program to players was going to happen on a simple premise. "It's based on three things—we're gonna maximize your value, extend your career and win. And those three things, every day we wake up as coaches, I ask our coaches all the time, Are you maximizing that player's value?" Very clearly, Meyer didn't convince enough of his players that he and his staff were capable of that. Otherwise, the results there might be different.
And I have five more thoughts on Chiefs-Chargers.
1) A lot of ink has been spilled on Brandon Staley's decision to go for it five times on fourth down. The Chargers only converted two, and one of those, clearly, would be looked at differently had Joshua Kelley not fumbled at the 1. And while there was one where I'd have gone the other way—I thought it was important to come away with points on the first possession of the game, and would've kicked a field goal there—I don't have a problem with Staley's aggressiveness. Here's how he explained these decisions to me a few weeks back: "We're not gonna gamble. That's not what we're doing. We're seeing it as an advantage situation for us." The implication is these are all calculated, with the decision made that going for it is simply the right thing to do. It's easy to appreciate that, for me, because it's not just doing something because it's always been done a certain way.
2) Clyde Edwards-Helaire had 11 touches for 55 yards on Thursday for the Chiefs. His longest gain was 12 yards. But I wouldn't be surprised if he winds up being a key for the Chiefs going into January. The Kansas City run game was hitting its stride before he got hurt in October, has been scattershot since, and its reemergence would only further bolster a team shaping up as the AFC favorite with three weeks left.
3) Thursday snapped a string of six straight games in which Kansas City had held its opponent under 20 points. Meaning that, for the first time in a long time, the Chiefs needed the offense to answer the bell. Patrick Mahomes & Co. answered with an eight-play, 75-yard drive to force overtime, then a five-play, 75-yard drive to win it. And Mahomes was 7-of-11 for 117 yards and two touchdowns on those possessions, with a crucial 32-yard run mixed in. So add the defense to a resurgent offense and maybe you have Andy Reid's most complete team?
4) I wish crucial games like this weren't scheduled for Thursday nights.
5) Patrick Mahomes vs. Justin Herbert for the next decade in the AFC West is gonna be a blast.
We'll wrap the takeaways, like we always do, with our quick-hitters for the weekend.
1) 1) The 49ers were 2-4, and 3-5, and now they're 7-6, and there are three reasons why. One, the run game has been creative, and it's been outside the box in deploying Deebo Samuel out of the backfield. Two, the defensive line is ramping up like it's 2019 again. And three, Jimmy Garoppolo's playing better (18-of-23, 235 yards, TD, 123.7 rating vs. Arizona) than a lot of people would like to admit.
2) The Giants' hitting 10 losses for the fifth straight season is straight-up sad. They'd never had more than three in a row before this string, and that happened just once (1978 to '80). And that it coincided with the soda stunt (more on that below), intended to be the nice shiny object to distract from a messy weekend.
3) Based on the coaches I've talked to, inside and outside the Jaguars' organization, there's a pretty healthy respect for how Trevor Lawrence has handled the last week. I had one tell me Lawrence's ability to weather everything that comes his way reminded him of Troy Aikman in 1989.
4) I don't know if Davis Mills will be the Texans' quarterback in 2022. But it feels like he's shown enough where if they trade Deshaun Watson, and there's not a hugely appealing option, they could draft around the quarterback this spring, rather than taking one, and buy themselves another offseason to find their long-term solution.
5) The Bills are really trying to build balance into that offense. Devin Singletary carried it 22 times on Sunday afternoon. And I think you could see it helped everyone in a breezy, if a little sloppy, 31–14 win over the Panthers.
6) On the flip side of that one, Cam Newton's becoming an awfully tough watch. That Panthers team is better than its record, but it's hard to play with a quarterback playing like Newton is.
7) Just in case you were wondering, Antonio Brown is going to be back with the Bucs. Mike Edwards is, too. Here's what Bucs coach Bruce Arians told Tampa reporters Sunday night: "It's in the best interest of our football team. Both of those guys have served their time, and we'll welcome them back."
8) If you haven't gotten a good look at Mac Jones's touchdown pass to Hunter Henry in the fourth quarter Sunday, it was ridiculous. And it wasn't just how big a spot it came in. It was the sort of window he hit and how he seemed to throw Henry into a dead spot in the Colts' coverage.
9) While we're there, spectacular pick by Bobby Okereke on Saturday night. The third-year linebacker out of Stanford isn't Darius Leonard, but he's not as far off as you might think.
10) Micah Parsons, the Freak Show, Vol. 73—covering, yes, an $18 million receiver on the perimeter, no big deal.
---
SIX FROM SATURDAY
1) I had my fun with Jimbo Fisher's contract a couple of months ago. And after the early signing period, it sure looks like it's good I got my laughs in while I could. Texas A&M not only broke into the Alabama/Georgia/Ohio State stronghold atop the recruiting rankings, the Aggies beat all those schools out and landed five of the top-20 high school players in the U.S., per the 24/7 composite ratings. Fisher did this at Florida State, won a national title and revived the Seminoles' reputation as an NFL pipeline. The same thing seems to be happening at A&M. So in April 2025 …
2) Among those skipping their bowl games to get started prepping for the draft: Pitt QB Kenny Pickett, Oregon DE Kayvon Thibodeaux, Michigan State RB Kenneth Walker III, Nevada QB Carson Strong, Arkansas WR Treylon Burks, Notre Dame S Kyle Hamilton, Mississippi State OT Charles Cross and Iowa State RB Breece Hall. It's been five years since Christian McCaffrey and Leonard Fournette blazed this trail for college kids, and I think it's a really good development overall. And that's not because I think every kid should skip his bowl game, or that every Thibodeaux or Walker would be wrong not to. More so, I think it's good that players are able to make conscious business decisions, knowing they won't be ostracized for them either way.
3) In the wake of all the signing-day chatter over the transfer portal, I think Alabama WR Jameson Williams is a perfect example of how players can best use it to their advantage. Williams came out of high school in 2019 and went to Ohio State, where he knew he'd get developed in an NFL way by receivers coach Brian Hartline. After two years, he talked with the Ohio State staff about his role and how he'd be part of a rotation, with rising sophomore Jaxon Smith-Njigba projecting as an ideal slot, and likely first-rounders Garrett Wilson and Chris Olave with him outside. In the end, Williams wanted to be featured more and took the two years of development he got, put that on the field at Bama, and now he's a first-round prospect, too. To me, that's different than simple school jumping. It's letting things play out and approaching your career with a sober, logical approach. Good for Williams.
4) The Travis Hunter story is fascinating—and I think indicative of how players see Deion Sanders. To them, he remains iconic. I can remember for the six years that I carried an NFL Network mic flag into locker rooms how many players asked me to say hello to 'Prime.' And just as he was a cultural groundbreaker back in the late '80s and early '90s, what he pulled off this week is similarly earth-shaking in the world of college football, getting the top high school prospect in the country to forgo all the trappings of big-time college football to join him at Jackson State. It opens the door for others to make the same sort of decisions, to be sure. And if Hunter wants a year or two at the highest level of college football before he goes to the NFL (assuming he's as good as advertised), the transfer portal affords him the chance to do that down the line. By then, based on the difference Sanders has made, maybe the two will be going somewhere as a package deal.
5) Both North Carolina's Mack Brown and South Carolina's Shane Beamer have agreed to be dumped with a Gatorade tub of mayo if they win the Duke's Mayo Bowl. Dumb stunt? Sure. Will I try to remember to tune in for the end of the game on Dec. 30? You're damn right I will.
6) North Dakota State is back in the national title game—with a chance to win its ninth championship since 2011—and that means we should probably start paying attention to quarterback Cam Miller. His three predecessors as Bison quarterback (Carson Wentz, Easton Stick, Trey Lance) are all in the NFL, which is a pretty amazing accomplishment for an FCS program.
---
BEST OF THE NFL INTERNET
The 49ers' defense is starting to play the way it did during the team's Super Bowl year. And Nick Bosa is an absolute menace. Should he be in the Defensive Player of the Year mix? With 15 sacks, coming off ACL surgery, I'm starting to wonder why he's not already.
This actually speaks to the biggest issue the Jaguars have had. Over 10 drafts before this year, the Jags had nine picks within the top 10. Just one of those nine players—pass-rusher Josh Allen—is still with the team. Six of those picks were in the top five, with Fournette being one of them, and none are left in Jacksonville. That's not bad. That's hideous.
Hard not to love this …
… And I kind of agree with Nora.
Again, given what the Ravens had out there, and going against Aaron Rodgers, I totally understand what John Harbaugh was thinking.
Aaron Rodgers tied Brett Favre for the Packers' record with 442 touchdown passes.
And it really is remarkable that for 30 seasons, Green Bay's had these two.
Just saw this today, and teenage Mac Jones's rocking the Bortles jersey is phenomenal.
Here's the video of the Bengals' big defensive play. A strange one, for sure.
Having no context … you should have a better batting average than .500 on challenges, right?
Rich is right. Stomping on the other team's logo always works out.
The King has weighed it. What kills me on this one—that it was a medium soda they were offering. The Giants couldn't splurge for the big souvenir cups for their fans?
This is a good stat. And for the most part, while severely undermanned, Martindale's defense kept Rodgers and the Packers at bay. It just didn't hold up all the way through.
Not hard to tell how much next week's New England game means to the Bills.
Things are getting very real in our picks contest.
Yeah, that's kind of the truth.
And Sean Payton will return this week (presumably) to a team at .500.
This is why I think John Harbaugh deserves Coach of the Year consideration.
This is 100% how I'm starting to feel on fourth down, pretty much all the time.
I blame the Dolphins for putting it up during halftime.
Kinda sums up the week in Jacksonville.
---
MONDAY NIGHT SPOTLIGHT
Every week, we'll talk to a prominent player about to step on the MNF stage. This week, ahead of Bears-Vikings, we've got Minnesota's five-time Pro Bowl safety Harrison Smith.
MMQB: So is there any explaining the ups and downs, and overall inconsistency from you guys this year?
HS: I'd say the main thing, it just comes down to the end of the half and two-minute. We'll play well for a while, or we might start out slow and pick it up. But I think the consistent thing is games we find a way to win, we normally find a way to win in two-minute. And there's a lot that goes into that—not every two-minute is the same. So I think when you really boil it down, it's technique and communication. When we're on-point with those things, we got a pretty good chance.
MMQB: Sort of feel like every game's been high drama?
HS: Absolutely. There's always more drama than you would like, no matter what, every year. But this year, it's to the extreme for sure. It's tough every week for it to come down to the last play, win or lose. So like last game, we had an opportunity to put things away, and we didn't do it, and those are things that we need to get done if we want to get to the playoffs and do what we want to do.
MMQB: Does that wear you out, being in games like that every week?
HS: Not in the moment, because you're in the game. The game, it's always stressful, that's part of it. But yeah, when you stack up every week of grinding it to the last play, it can add up. It's nice to get a couple games where you don't have to play the last series. Injuries are a huge part of the game, and fatigue, and as the season wears on, it's normally the teams that have the healthiest roster and guys that are ready to go that end up winning the close ones.
MMQB: So 10 years into your career, how have you been able to stay effective as a player?
HS: Man, I don't think I could summarize everything. It kinda evolves as you age. You might have an injury that bothers you one year that doesn't even exist the next year, or something that lingers your whole career. Stuff like that, so I'm pretty up on getting massages, staying hydrated, sweating, sauna, just starting it new every week in that regard. And some of it is sometimes you just gotta tough things out. People in football say all the time, 'Being hurt and injured are different.' There's some truth in that. If you can find a way to play and be effective, find a way to do it. But there's other scenarios where even if you can get on the field, you're not gonna be the best option for the team. So there's a balance to it for sure.
MMQB: How are you different as a player now?
HS: Obviously, every year, you learn. I've learned more about the game. And I think the one consistent thing that I've felt since I have become a veteran is just because you are around football more and learn more doesn't mean you have to always think—you don't have to make it too cerebral. Like sometimes, you can just chase the ball, and be violent and make a play. It's like, just be a kid and go play. Now, you can't do that all the time. But there's a balance there of being prepared, watching film, knowing some basic things in football and how you might get attacked in this coverage or whatever, and then just hitting the switch and just running after a ball. Because it's really what my position is when you boil it down.
MMQB: Is there a significance to hitting 10 years for you?
HS: There is, but in a weird way. All the guys I played with that played for a while—like I played with Antoine Winfield and I played with Terence Newman—and they were corners. And Terence played until he was almost 40. So I guess that just kinda made me think, not that it wasn't a big deal, because I really appreciated how those guys were able to do that. But it made it seem doable. So sometimes I don't really feel like I've been in the league that long, in a weird way. And then other times, I'll look back and it feels like forever. Guys tell me they grew up watching a guy I played with, or they call me the old guy or whatever, and it still catches me off guard. Just because I'm not programmed to think that way. And Terence wasn't like that either. I used to call Terence 'Pops' because he was old for the league. I don't think he really liked it. I think he likes it now, but when he was playing, you want to feel young. You just tell yourself you're young, and I don't know, one day I guess I won't be and they'll let me know then. But until then, I like to feel young.
MMQB: Is cool to have been able to do it in one place?
HS: Yeah, it's special to me. And I don't want to downplay it. That's not what I mean when I say I think of it as normal. That's the only way for me to do it, is for me to think that. I don't want to limit myself by my thoughts, so I just lie and pretend I'm young. But yeah, it is special. It's not just me. That's a lot of people I've been around in the organization, a lot of coaches, a lot of players I've learned from and played with. I try to learn something from everybody, and I'm definitely appreciative of everyone who's allowed me to play for 10 years and has helped me become the player that I am.
MMQB: So where's the challenge for you guys in facing Justin Fields this week?
HS: Just to start with, he was drafted there for a reason. A high pick, he's got a ton of talent, and you can see that on film. I don't want to peg him as a runner or anything—he can throw it—but he's a really fast individual as well. So he's got some options available. He doesn't have a ton of reps. Young guy. I'm sure he's still figuring some things out, but he's had some success. I've seen what he can do on film. So there's some unknowns.
MMQB: Do you have to play a more disciplined game from your spot against a QB like that?
HS: You would think so, in general. Still, some things come down to just what call we're in and what your assignment is. But yeah, I would definitely agree with that. And it's more like that every week, it seems like, as the NFL evolves. Almost every week, guys can buy time with their legs or have some ability to run. There's not a whole lot of guys that are just sitting back there anymore. I think Fields is probably one of the faster guys, if I had to guess, but yeah, that's just kinda the reality of the NFL these days.
MMQB: Is every game a must-win from here on out?
HS: For sure.
MMQB: Anything still cool about playing on MNF for you?
HS: This sounds really stupid, but when I was a kid, I never really understood that there was only one game on Monday nights. I just watched football whenever it was on. Like, I never really thought about Monday night or Sunday night—or playing that noon game. It was just football. I still kind of approach it that way. There's something cool about being the only game on because, if you're watching, you're watching us. But it's still just the same game on the same dimensions and field. And it happens to be dark out, I guess.
---
WHAT YOU NEED TO KNOW
It's time for the coaching carousel to start spinning.
Troy Vincent, Rod Graves and a bunch of league executive types explained last week why they're putting in the new two-week window for teams with head-coaching openings to interview candidates before the regular season ends. The idea is to slow down the process, so more coaches get long, honest looks, differing from the speed-dating pace of the normal hiring cycle, with the hope being that some new guys will catch the eye of owners.
And I like the idea. The problem is coming, though. See, the downside is that teams will see other teams' starting their hiring process and pull the plug on their current coaches more quickly than maybe they'd otherwise want to, in order to keep up.
So where we already have two openings, in Las Vegas and Jacksonville, that might lead to a mini-Black Monday next week. Now, I can't imagine there'll be a flood of firings. But we certainly could get a couple.
Stay tuned for that.
More NFL Coverage:
• Ravens Deserve Credit for Keeping it Close
• Dolphins Didn't Need Quick Fix to Find Identity
• Urban Meyer Never Stopped Living in the Past
• Ranking All 32 Teams' Quarterback Situations

https://www.si.com/nfl/2021/12/20/mmqb-week-15-wild-afc-west-race-christian-wilkins