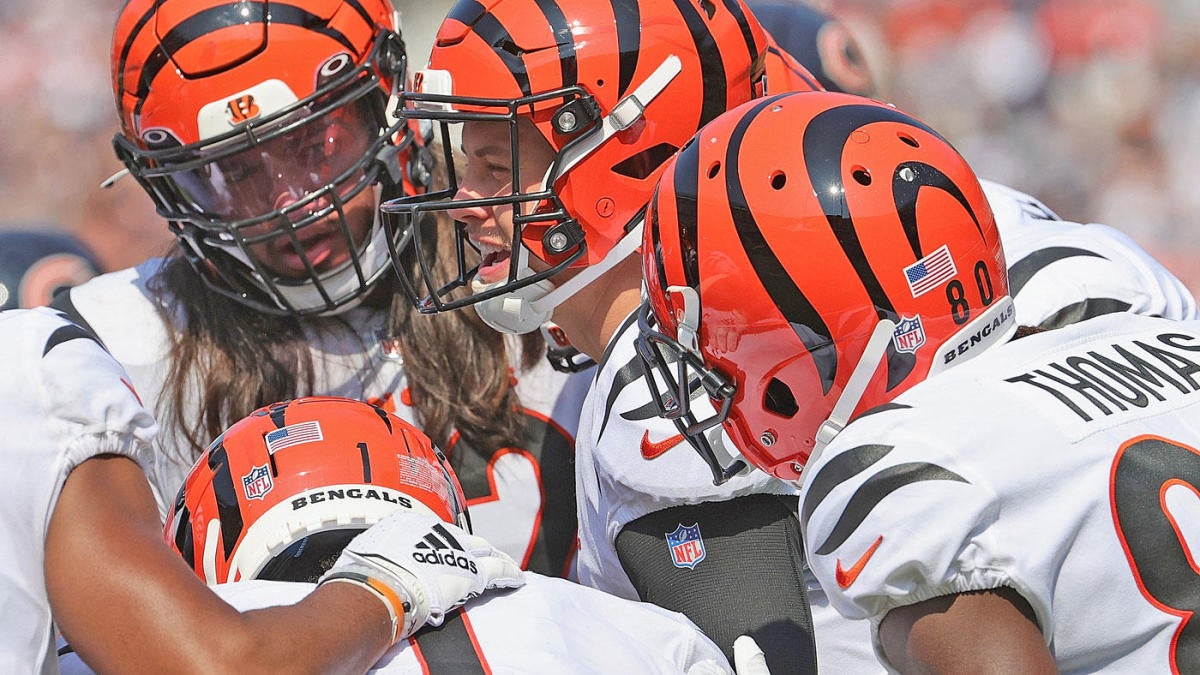 Last week was a rough week against the spread for yours truly. I was pretty down in the dumps, wondering if things could get any worse. Well, all I can say is, thank you Urban Meyer. It can get worse! 
This is the most pub the Jaguars have gotten in quite some time, but the current storyline probably defies the "no press is bad press" motto so often used by public relations experts. It's the only thing being talked about. And not just on sports radio or hot take shows. The Urban stuff has consumed text and email threads across the country for the last five days. 
And the crazy part is, we're not even five weeks into Urban's regular season tenure with the Jags. He's issued more public apologies — whether to fans, family, his boss, whoever — than NFL games coached. It's an incredible feat. 
Where does it go from here? One would THINK things settle down if the Jags can find a win in the next week or two. If not, the pressure cooker could get turned up even more. I'm fascinated to see how/where it goes from here. 
To the picks, may they be better than last week (mine, not Urban's, let's set the bar a little higher this time).
All NFL odds are via Caesars Sportsbook
NFL Week 5 Picks
Thursday, 8:20 p.m. ET
TV: NFL Network, Fox | Stream: Amazon Prime
Follow: CBS Sports App
Latest Odds:
Seattle Seahawks
+2.5
Fading Russell Wilson in prime time feels like a terrible idea. But the Seahawks should be 1-3 at best after they got beat up in the box score by San Francisco but escaped with a win. The Rams were do for a letdown last week after beating up on Tom Brady and the Bucs the prior week. Now they're angry and should come out slinging all over a questionable Seattle defense. I think we get a ton of points in this one and Matthew Stafford and Co. come out ahead. 
The pick: Rams 28, Seahawks 24
Props, Best Bets: Rams ML
Sunday, 9:20 a.m. ET (London)
TV: NFL Network | Stream: fuboTV (click here)  
Latest Odds:
Atlanta Falcons
-2.5
Look at this beautiful tire fire we're sending overseas. Fortunately for the Brits, Robert Saleh's crew managed to find their first victory against the Titans on Sunday. New York doesn't look like a team capable of winning a lot of games this year but they won't be a team that quits on their coach. And Zach Wilson can sling it man. Just let him throw a couple more rockets to Corey Davis like he did against Tennessee and suddenly England will have a few more Jets fans lurking about.
If there was a team to give them up, it's Atlanta. The Jets likely won't provide much resistance to Matt Ryan, who showed up with his best game of the season by far against Washington on Sunday. (Now if he could just manage to focus some passes toward either Kyle Pitts or Calvin Ridley …) One advantage for the Jets in this game should be facing the Tennessee offense last week, slowing down Derrick Henry and then drawing Arthur Smith's Atlanta offense this week. I know Henry eventually ended up with a huge stat line, but his early-game production was not impressive and the Jets did a good job of minimizing his production. I think they find a second win here or at the very least stay within the number because of the Falcons inability to play defense against just about anyone. 
The pick: Jets 28, Falcons 24
Props, Best Bets: Jets +3
Which picks can you make with confidence, and which Super Bowl contender goes down hard? Visit SportsLine now to see which teams win and cover the spread, all from a proven computer model that has returned almost $7,900 since its inception, and find out.
Sunday, 1 p.m. ET
TV: CBS | Stream: Paramount+ (click here)  
Latest Odds:
Tampa Bay Buccaneers
-10
Watching these two teams play in Week 4 you'd be hard pressed to pick anything other than the Buccaneers. But there's a few factors making me "like" the Dolphins in this spot. One, the line is double digits. Two, Tom Brady and his teammates are coming off a crazy emotional week. And three, Brian Flores has decent history (let's ignore that 43-0 shellacking the first time) slowing down Brady. It's a pure letdown play and I think the Bucs will be content to take a couple shots, pound Leonard Fournette and get out with a fairly close win.
The Pick: Bucs 27, Dolphins 21
Bets: Pass
Saints at Washington Football Team
Sunday, 1 p.m. ET
TV: CBS | Stream: Paramount+ (click here)  
Latest Odds:
Washington Football Team
+2.5
The latest proof 2021 is wild: Sean Payton's offense is bottom half of the league by DVOA and Ron Rivera's defense is bottom five in the league by the same metric. Payton we can at least chalk up to the departure of Drew Brees and absence of Michael Thomas, although this particular unit is moving at a sloth's pace, which speaks pretty strongly to Payton's faith in Jameis Winston at this point. Rivera's defense is absolutely astonishing. The WFTs have given up nearly 1,200 passing yards, 7.4 yards per play and has allowed opposing quarterbacks to hit on over 67 percent of their passes. Is this a get-right spot for either team? Sean Payton has an excellent record winning games off a loss. Neither Rivera nor Payton has a massive leg up on their head-to-head record with their time in the NFC South together. Washington can put up enough points to steal this one at home.
The Pick: WFT 35, Saints 28
Bets: Pass
Sunday, 1 p.m. ET
TV: Fox | Stream: fuboTV (click here)  
Latest Odds:
Pittsburgh Steelers
+1.5
The Broncos are a very popular AFC West upstart after their hot start with Teddy Bridgewater under center. The Steelers, meanwhile, are the butt of many NFL jokes and people pointing out how WASHED Ben Roethlisberger is. He almost certainly is washed at this point, but there's enough left in the tank for him to summon up a strong home performance as a small favorite. Especially in a week when Ben's camp is letting it leak he's being "hamstrung" by Mike Tomlin and OC Matt Canada. I would assume everyone and their brother is on the Broncos here because of the Steelers struggles and the perception they're cratering into oblivion, so I'm just going to pivot the other way with a small number. Long term I'm selling Pittsburgh but this is a decent buy spot with a dangerous defense presumably drawing the turnover prone Drew Lock.
The Pick: Steelers 21, Broncos 13
Bets: Steelers -1.5
Titans at Jaguars
Sunday, 1 p.m. ET
TV: CBS | Stream: Paramount+ (click here)  
Latest Odds:
Jacksonville Jaguars
+4.5
Wouldn't it be incredible if Meyer got his first win in a massive divisional game after the last week or so? The Jaguars are DFL in DVOA against the pass, but actually around average against the run. We saw them in Cincinnati put up a good fight against Joe Mixon. Will the Titans be willing to aggressively push things downfield in the passing game to take advantage of Jacksonville's weakness? They might not even have the personnel for it, depending on the status of A.J. Brown and Julio Jones. More than likely the Titans will try and lean on Derrick Henry like last week against the Jets and it could get them in trouble against a decent run defense. On the other hand, Henry averages 101.3 (!) yards per game against the Jags in his career along with 11 touchdowns in 10 games. Plus, Urban basically set the Jags mini-bye on fire — he was answering questions about Ohio, not Tennessee, as late as Wednesday — and it's a lot harder to prep for a game when you've got ……. other ……. things in your life to deal with. If the Jags were catching a touchdown or more a la the Jets I'd roll with but give me the Titans to cover the short number.
The Pick: Titans 31, Jaguars 23
Bets: Pass
Sunday, 1 p.m. ET
TV: Fox | Stream: fuboTV (click here)  
Latest Odds:
Minnesota Vikings
-10
The Vikings looked about as uninspired as an NFL club can against the Browns last week. After a quick score from Kirk Cousins to Justin Jefferson, things went sideways and the Vikings didn't score a single point the rest of the way. It was tough to watch, especially with Baker Mayfield struggling just as badly for Cleveland. Dalvin Cook is still banged up, so the guess here is the Vikes lean on Kirk Cousins and air it out a little bit to get a lead and then lean on Alexander Mattison to close things out. Detroit will probably mount one of their patented second half surges, making the backdoor a dangerous possibility. But the Vikings badly need a convincing win in this spot and I think they manage to get it.
The Pick: Vikings 35, Lions 21
Bets: Vikings -7.5
Sunday, 1 p.m. ET
TV: CBS | Stream: Paramount+ (click here)  
Latest Odds:
Houston Texans
+8
The over/under for this game is a robust 39.5, which is about as low as you'll see an NFL game in the year 2021. That's not to say it can't easily hit: Pats unders are pretty strong since the departure of Tom Brady led to a more conservative offense. Mac Jones is actually passing more than you would think, but this is a smash spot for Damien Harris and the Patriots running game to take over. It reminds exactly of the Pats only win this season, a 25-6 thumping of rookie Zach Wilson and the Jets on the road in Week 2. David Culley and the Texans can prepare all they want, but Bill Belichick destroys young quarterbacks in bad spots and Davis Mills qualifies. New England probably shouldn't be nine-point road favorites, but it's difficult to imagine them being locked up in a tight one with Houston given the Pats relative strengths.
The Pick: Patriots 21, Texans 7
Bets: Under 39.5
Sunday, 1 p.m. ET
TV: Fox | Stream: fuboTV (click here)  
Latest Odds:
Cincinnati Bengals
+2.5
Aaron Rodgers recently admitted he doesn't like playing in Cincinnati, for whatever reason. (Such is life being on a podcast with John Breech. You're constantly being fed pro-Bengals propaganda.) The Bengals currently profile as the fifth-best defense in football by DVOA and are particularly stout against the run. I think they can limit Aaron Jones and A.J. Dillon. Additionally, when Joe Mixon is out — and he should be here — Cincy morphs from an early-down run offense to a more pass-friendly unit. Get Joe Burrow cooking against a secondary without Jaire Alexander and with Tee Higgins back in the fold and we could see some fireworks. I'm backing AMERICA'S NEW TEAM THE CINCINNATI BENGALS to win this game OUTRIGHT. No this isn't Stockholm Syndrome. I'm just stealing the Bengals from Breech, right out from under his nose.
The Pick: Bengals 31, Packers 28
Bets: Bengals +3, Over 51
Sunday, 1 p.m. ET
TV: Fox | Stream: fuboTV (click here)  
Latest Odds:
Carolina Panthers
-3
The Panthers have been busy bees when it comes to bolstering their secondary. First they trade for C.J. Henderson and now they've added former DPOY Stephon Gilmore via a trade on Wednesday with New England. Gilmore won't be available for this game but acquiring him should bolster Carolina's roster with the belief this team is trying to win now. I started out looking for ways to talk myself into the Eagles keeping it within this small number, but I'm not sure I can get there. The Eagles kept it closer with Kansas City than the score would indicate, but the Panthers defense is miles better than the Chiefs. And while Carolina's offensive line is much worse than KC's and Sam Darnold is not equal to Patrick Mahomes, Joe Brady and Co. have done enough moving Darnold around and giving him designed runs to mitigate the pressure from Philly's front. If Christian McCaffrey comes back, it's just a bonus.  
The Pick: Panthers 28, Eagles 21
Bets: Panthers -4
Sunday, 4:25 p.m. ET
TV: CBS | Stream: Paramount+ (click here)  
Latest Odds:
Las Vegas Raiders
-5.5
All eyes will be on this game with Justin Fields making his "franchise quarterback" debut (last week he was just spot starting for Andy Dalton, this is the real thing, welcome to the Bears!). Chicago, rather annoyingly, did this exact same thing with Mitchell Trubisky back in 2017. But this is a much better matchup for Fields than Trubisky who drew the 2017 Vikings and the league's No. 1 ranked defense. Fields gets a better-than-advertised Raiders defense but this is still an average unit. If — AND I REPEAT IF — Matt Nagy can scheme up some stuff to assist his rookie quarterback by cutting the field in half, rolling him out in play-action spots and utilizing designed runs to accentuate Fields' strengths, this could be a really nice debut. It's an upgrade for Darnell Mooney, Allen Robinson and Cole Kmet for sure, even if David Montgomery will be absent. If Nagy doesn't help his quarterback, the Raiders will roll and the calls for his head will justifiably increase. Derek Carr and the Raiders will look for a bounceback after a rough performance against the Chargers, but I'm not sure this is an ideal landing spot with the short week. 
The Pick: Bears 21, Raiders 20
Bets: Bears +5.5
Sunday, 4:25 p.m. ET
TV: Fox | Stream: fuboTV (click here)  
Latest Odds:
Dallas Cowboys
-7
Daniel Jones is quietly playing the best football of his career. Unfortunately for the Giants … so is Dak Prescott. Dak might not actually win Comeback Player of the Year this season if he's too busy taking home MVP. And he should be able to bolster his numbers against a leaky Giants defense, (although credit to them for limiting Atlanta and New Orleans the last two weeks). The number here is a bit large, though, with Dimes capable of torching teams with his legs in the same way that league-leading rushing TD scorer Sam Darnold was able to light them up. Kenny Golladay is starting to get going and Jones should be forced to throw a ton with the Cowboys capable of scoring and then leaning on Ezekiel Elliott. The Cowboys defense is much improved but the Giants will be able to pile up garbage time stats and worst case storm in through the backdoor.
The Pick: Cowboys 35, Giants 31
Bets: Over
Sunday, 4:25 p.m. ET
TV: Fox | Stream: fuboTV (click here)  
Latest Odds:
Arizona Cardinals
-5
The Cardinals are for real, no doubt about it. Kliff Kingsbury should be the COY leader and Kyler Murray should be the MVP frontrunner. Veteran additions like A.J. Green and J.J. Watt are paying off for GM Steve Keim. But in a divisional matchup of two teams within a reasonable skillset level, this is just too many points. The Cards probably aren't bothering to prepare for Jimmy Garoppolo, knowing the chatter about him playing was likely a smokescreen. Preparing for Trey Lance isn't easy, though. We might see the 49ers uncork a 2012-WFT style playbook in this one, just unleashing read option and RPOs out the wazoo. Personally I am WAY more concerned about Trent Williams and Alex Mack playing than Jimmy G. Or just about anyone on the roster. If both those guys are down, I might back off this pick, but I think the 49ers pull off the upset on the road here and we see some magic out of Lance on the offensive side of things.
The Pick: 49ers 31, Cardinals 28
Bets: SF +5.5
Browns at Chargers
Sunday, 4:25 p.m. ET
TV: CBS | Stream: Paramount+ (click here)  
Latest Odds:
Los Angeles Chargers
-2.5
Did not expect this to be a matchup of 3-1 AFC heavyweights but here we are. This is a fun chess battle too because the Chargers are a run funnel and simply lock down opposing passing games. The Browns love that! Baker Mayfield was hot trash last week against the Vikings but his team still got the win. If the Chargers can somehow slow down the run by loading up the box and force Mayfield to throw, that's a bigger advantage than what their defense has been doing the first few weeks of the season. The Browns, meanwhile, have the third overall defense by DVOA right now. They're pretty good too! I would expect we see the Chargers keep trying to work Austin Ekeler and probably have some success. It's going to be an awesome game. Give me the Bolts in a thrilling afternoon matchup.
The Pick: Chargers 21, Browns 17
Bets: Chargers -1.5
Sunday, 8:20 p.m. ET
TV: NBC | Stream: fuboTV (click here)  
Latest Odds:
Kansas City Chiefs
-3
And then this is the night game? What a weekend of action. I'm sure some people will be in on the under here and I don't blame them based on the insanely high total. No chance I get in front of this moving train, though. Patrick Mahomes and Josh Allen could put up some big-time numbers in this game, even with the Bills playing some really good defense (No. 1 in DVOA) lately. It's hard to imagine their best effort nullifying the Chiefs, although Buffalo winning wouldn't shock me. Given the stakes and the stage and the home-field advantage, I'll still take the Chiefs here. But this game is just going to be awesome. Sit back and enjoy it.
The Pick: Chiefs 41, Bills 35
Bets: Chiefs -2.5
Monday, 8:15 p.m. ET
TV: ESPN | Stream: fuboTV (click here)  
Latest Odds:
Baltimore Ravens
-7
Assuming TNF and SNF deliver, could this be our first prime-time snoozer of the year? Every single big game has been outstanding theater on a prime-time stage. I don't think the Ravens will just completely steamroll the Colts and it was good to see signs of life from Carson Wentz and Indy last week in South Florida. But this is a different animal. John Harbaugh and Lamar Jackson at home are a problem. Indy's actually sporting a good rush defense but I think we can expect some shots down the field to Marquise Brown and Mark Andrews. If the Ravens can get vertical they can put the Colts in a rough position needing to come back. 
The Pick: Ravens 24, Colts 14
Bets: Pass
require.config({"baseUrl":"https://sportsfly.cbsistatic.com/fly-077/bundles/sportsmediajs/js-build","config":{"version":{"fly/components/accordion":"1.0","fly/components/alert":"1.0","fly/components/base":"1.0","fly/components/carousel":"1.0","fly/components/dropdown":"1.0","fly/components/fixate":"1.0","fly/components/form-validate":"1.0","fly/components/image-gallery":"1.0","fly/components/iframe-messenger":"1.0","fly/components/load-more":"1.0","fly/components/load-more-article":"1.0","fly/components/load-more-scroll":"1.0","fly/components/loading":"1.0","fly/components/modal":"1.0","fly/components/modal-iframe":"1.0","fly/components/network-bar":"1.0","fly/components/poll":"1.0","fly/components/search-player":"1.0","fly/components/social-button":"1.0","fly/components/social-counts":"1.0","fly/components/social-links":"1.0","fly/components/tabs":"1.0","fly/components/video":"1.0","fly/libs/easy-xdm":"2.4.17.1","fly/libs/jquery.cookie":"1.2","fly/libs/jquery.throttle-debounce":"1.1","fly/libs/jquery.widget":"1.9.2","fly/libs/omniture.s-code":"1.0","fly/utils/jquery-mobile-init":"1.0","fly/libs/jquery.mobile":"1.3.2","fly/libs/backbone":"1.0.0","fly/libs/underscore":"1.5.1","fly/libs/jquery.easing":"1.3","fly/managers/ad":"2.0","fly/managers/components":"1.0","fly/managers/cookie":"1.0","fly/managers/debug":"1.0","fly/managers/geo":"1.0","fly/managers/gpt":"4.3","fly/managers/history":"2.0","fly/managers/madison":"1.0","fly/managers/social-authentication":"1.0","fly/utils/data-prefix":"1.0","fly/utils/data-selector":"1.0","fly/utils/function-natives":"1.0","fly/utils/guid":"1.0","fly/utils/log":"1.0","fly/utils/object-helper":"1.0","fly/utils/string-helper":"1.0","fly/utils/string-vars":"1.0","fly/utils/url-helper":"1.0","libs/jshashtable":"2.1","libs/select2":"3.5.1","libs/jsonp":"2.4.0","libs/jquery/mobile":"1.4.5","libs/modernizr.custom":"2.6.2","libs/velocity":"1.2.2","libs/dataTables":"1.10.6","libs/dataTables.fixedColumns":"3.0.4","libs/dataTables.fixedHeader":"2.1.2","libs/dateformat":"1.0.3","libs/waypoints/infinite":"3.1.1","libs/waypoints/inview":"3.1.1","libs/waypoints/jquery.waypoints":"3.1.1","libs/waypoints/sticky":"3.1.1","libs/jquery/dotdotdot":"1.6.1","libs/jquery/flexslider":"2.1","libs/jquery/lazyload":"1.9.3","libs/jquery/maskedinput":"1.3.1","libs/jquery/marquee":"1.3.1","libs/jquery/numberformatter":"1.2.3","libs/jquery/placeholder":"0.2.4","libs/jquery/scrollbar":"0.1.6","libs/jquery/tablesorter":"2.0.5","libs/jquery/touchswipe":"1.6.18","libs/jquery/ui/jquery.ui.core":"1.11.4","libs/jquery/ui/jquery.ui.draggable":"1.11.4","libs/jquery/ui/jquery.ui.mouse":"1.11.4","libs/jquery/ui/jquery.ui.position":"1.11.4","libs/jquery/ui/jquery.ui.slider":"1.11.4","libs/jquery/ui/jquery.ui.sortable":"1.11.4","libs/jquery/ui/jquery.ui.touch-punch":"0.2.3","libs/jquery/ui/jquery.ui.autocomplete":"1.11.4","libs/jquery/ui/jquery.ui.accordion":"1.11.4","libs/jquery/ui/jquery.ui.tabs":"1.11.4","libs/jquery/ui/jquery.ui.menu":"1.11.4","libs/jquery/ui/jquery.ui.dialog":"1.11.4","libs/jquery/ui/jquery.ui.resizable":"1.11.4","libs/jquery/ui/jquery.ui.button":"1.11.4","libs/jquery/ui/jquery.ui.tooltip":"1.11.4","libs/jquery/ui/jquery.ui.effects":"1.11.4","libs/jquery/ui/jquery.ui.datepicker":"1.11.4"}},"shim":{"liveconnection/managers/connection":{"deps":["liveconnection/libs/sockjs-0.3.4"]},"liveconnection/libs/sockjs-0.3.4":{"exports":"SockJS"},"libs/setValueFromArray":{"exports":"set"},"libs/getValueFromArray":{"exports":"get"},"fly/libs/jquery.mobile-1.3.2":["version!fly/utils/jquery-mobile-init"],"libs/backbone.marionette":{"deps":["jquery","version!fly/libs/underscore","version!fly/libs/backbone"],"exports":"Marionette"},"fly/libs/underscore-1.5.1":{"exports":"_"},"fly/libs/backbone-1.0.0":{"deps":["version!fly/libs/underscore","jquery"],"exports":"Backbone"},"libs/jquery/ui/jquery.ui.tabs-1.11.4":["jquery","version!libs/jquery/ui/jquery.ui.core","version!fly/libs/jquery.widget"],"libs/jquery/flexslider-2.1":["jquery"],"libs/dataTables.fixedColumns-3.0.4":["jquery","version!libs/dataTables"],"libs/dataTables.fixedHeader-2.1.2":["jquery","version!libs/dataTables"],"https://sports.cbsimg.net/js/CBSi/app/VideoPlayer/AdobePass-min.js":["https://sports.cbsimg.net/js/CBSi/util/Utils-min.js"]},"map":{"*":{"adobe-pass":"https://sports.cbsimg.net/js/CBSi/app/VideoPlayer/AdobePass-min.js","facebook":"https://connect.facebook.net/en_US/sdk.js","facebook-debug":"https://connect.facebook.net/en_US/all/debug.js","google":"https://apis.google.com/js/plusone.js","google-platform":"https://apis.google.com/js/client:platform.js","google-csa":"https://www.google.com/adsense/search/async-ads.js","google-javascript-api":"https://www.google.com/jsapi","google-client-api":"https://apis.google.com/js/api:client.js","gpt":"https://securepubads.g.doubleclick.net/tag/js/gpt.js","newsroom":"https://c2.taboola.com/nr/cbsinteractive-cbssports/newsroom.js","recaptcha":"https://www.google.com/recaptcha/api.js?onload=loadRecaptcha&render=explicit","recaptcha_ajax":"https://www.google.com/recaptcha/api/js/recaptcha_ajax.js","supreme-golf":"https://sgapps-staging.supremegolf.com/search/assets/js/bundle.js","taboola":"https://cdn.taboola.com/libtrc/cbsinteractive-cbssports/loader.js","twitter":"https://platform.twitter.com/widgets.js","video-avia":"https://vidtech.cbsinteractive.com/avia-js/1.9.0/player/avia.min.js","video-avia-cvui":"https://vidtech.cbsinteractive.com/avia-js/1.9.0/legacy/cvui/cvui.min.js","video-cvp":"https://vidtech.cbsinteractive.com/cvp/1.2.2/cvp.min.js","video-cvui":"https://vidtech.cbsinteractive.com/cvp/1.2.2/cvui.min.js","video-ima3":"https://imasdk.googleapis.com/js/sdkloader/ima3.js","video-ima3-dai":"https://imasdk.googleapis.com/js/sdkloader/ima3_dai.js","video-utils":"https://sports.cbsimg.net/js/CBSi/util/Utils-min.js","video-vast-tracking":"https://vidtech.cbsinteractive.com/sb55/vast-js/vtg-vast-client.js"}},"waitSeconds":300});

https://www.cbssports.com/nfl/news/nfl-week-5-picks-odds-bengals-stun-packers-rams-take-out-seahawks-steelers-beat-broncos/