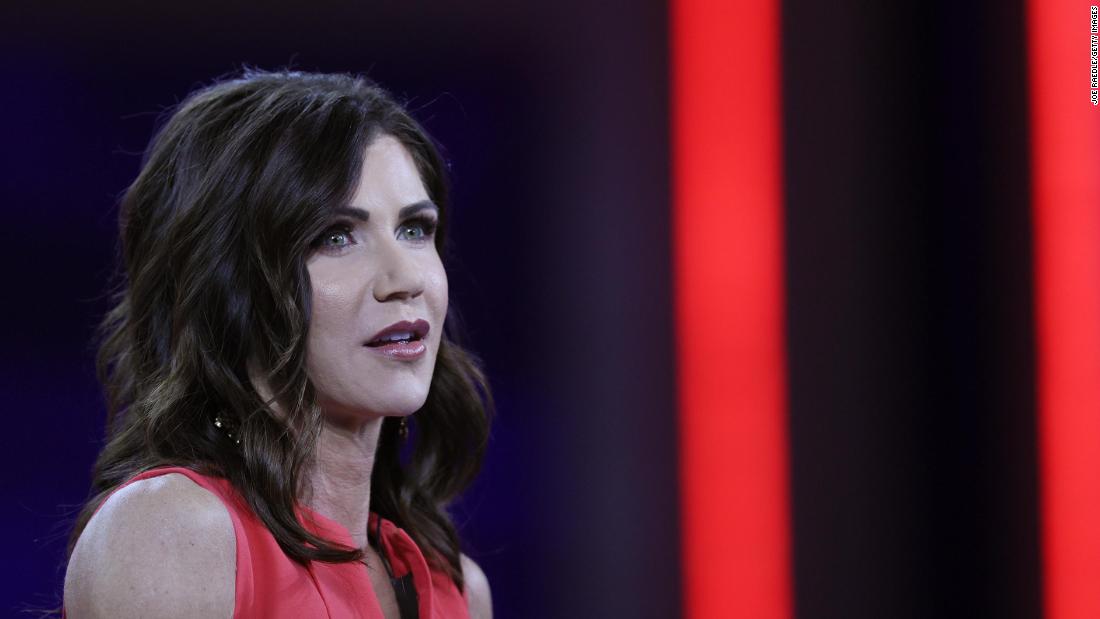 Sherry Bren, the former executive director of the South Dakota Appraiser Certification Program, was called to a July 27, 2020, meeting with Noem and found that Noem's daughter, Kassidy Peters, who was applying to become a state-certified real estate appraiser at that time, was also present along with other top state officials including the state's Secretary of Labor.
Before that point, Peters had experienced difficulty meeting the state's criteria to complete the process because of deficiencies in her work, documents obtained by CNN have shown.
Bren testified on Tuesday that she was nervous and "intimidated" when she arrived at the July meeting with the governor, in part because she was not expecting so many state officials to be present.
Bren contends she was forced to retire several months later "at the behest of the Administration," as first reported by
the Associated Press
. Still, during testimony before the South Dakota legislature's Joint Government Operations and Audit Committee on Tuesday, Bren said that she could not speculate on the reasons why she was forced out of her job.
After her departure from state government, she filed an age discrimination complaint against the state and received a $200,000 settlement agreement.
Noem, a potential Republican contender for the White House, has insisted that she did not seek special treatment for her daughter and that Bren's exit from state government was related to long-standing problems in the appraisers program that had contributed to a shortage of real estate appraisers in the state.
The Associated Press reported that Peters was facing a denial of her certification when the July meeting took place, but state officials have told CNN there was no final denial of Peters' application. South Dakota state officials provided CNN a stipulation agreement showing a mentoring plan that was outlined for Peters to complete her certification, which was dated August 5, 2020 — several days after Bren's meeting with the governor and other state officials.
Bren testified Tuesday that Peters had been notified by mail before the July meeting with the governor and her staff that her application was insufficient, circumstances that could have led to a denial of her application to be a certified appraiser.
During the Tuesday hearing, Bren testified for the first time about what had happened at the meeting with the governor in July 2020 — making it clear that the governor was upset about the "serious deficiencies" that had been identified in her daughter's application.
Bren said in her testimony that a stipulation agreement that was prepared for Kassidy Peters by state officials essentially gave her a third opportunity to correct problems with her application, which was unusual. Normally applicants are given two chances to address deficiencies in their work, which includes appraisals completed by the applicant that are reviewed by an outside reviewer, before their application is denied, she testified.
Noem's spokesman, Ian Fury, contradicted Bren's assertion that the arrangement for Peters was unusual in a statement on Tuesday. The governor's office provided reporters with documents showing that a 2017 applicant reached an agreement with state officials to complete his real estate appraisers certification with a stipulation agreement drawn up by state officials. Bren was cc'd on the 2017 agreement with the applicant, the document shows.
"It is factually inaccurate that there was not a prior stipulation agreement," Fury said. "Governor Noem did not seek special treatment for her daughter, and the stipulation agreement that Ms. Peters released proves that there were additional requirements she had to meet in order to obtain her certification."
But Bren pointed out that the 2017 applicant's process was very different from that of Peters, because the 2017 applicant entered into his agreement with the state after participating in a formal administrative hearing — a process handled by an outside review board. The 2017 applicant was allowed to withdraw his original application and submit a new application. Peters was given a chance for a third try through her stipulated agreement in a process that was handled internally by state officials involved with the appraiser certification program, without any outside administrative hearing.
In the course of her testimony on Tuesday, Bren said that as the executive director of the program, she would have been responsible for issuing the notice of denial to any applicant whose work did not meet the criteria for approval, but that the Secretary of Labor would have had the final say on the denial.
Noem and Bren offer differing accounts of the meeting
Noem has said the story about her daughter's application has "been twisted" and "manipulated" and she has maintained that the July 2020 meeting she held with Bren and state officials was focused on "fixing the appraisers program," which she said has "long been broken," limiting the amount of available real estate appraisers in the state.
During a November 4 news conference, Noem said that the meeting was not called to discuss her daughter's application. She acknowledged, however, that her daughter spoke at the meeting about her personal experiences in the program and gave her perspective about how long it took to go through the program and how difficult it was.
But Noem's account that the July 2020 meeting with Bren and state officials only briefly touched on her daughter's application was at odds with Bren's testimony Tuesday that Peters' application was discussed in detail.
Bren said the meeting "was a little bit of a fog to me" because once she arrived, "I was very nervous and quite frankly intimidated," she told state lawmakers Tuesday.
"The governor started the meeting with essentially this statement: 'I know for a fact that South Dakota is the hardest state to get licensed in as an appraiser and I intend to get to the bottom of this,' " Bren recalled.
Bren said at one point during the meeting that she mentioned a set of appraisal classes that would be helpful for Peters to take. "The governor was upset that she was just now hearing about these classes," Bren said Tuesday.
The meeting, Bren said, included a discussion of crafting a new agreement that would allow Peters to complete the program — including certain appraiser classes that Peters could take, and the process for her to "correct and rewrite" appraisal reports that were part of her application so that they could be reviewed.
"After the meeting, I returned to my office knowing that a second agreement would be provided to Peters that included the terms and conditions discussed at the meeting and it would go out in the mail for her to sign," Bren said. "I was not advised of any changes that I needed to make to the appraiser certification program."
Bren testified that she had never received negative evaluations of her work before she was forced to retire by state officials. But she said she could not answer some of the lawmakers' questions about the circumstances of her departure because of a "non-disparagement" clause in her settlement agreement with the state.
At the end of the legislative hearing on Tuesday, South Dakota Sen. Reynold Nesiba, a Democrat, argued that the state should eliminate the non-disparagement clause in Bren's settlement agreement so she could speak more freely about what happened.
"This is a question about — was a longtime, dedicated employee, was she wrongfully fired? Was she wrongfully fired on behalf of a relative of the governor and did the state end up paying $217,000 to cover that up," Nesiba said. "And we're not going to know the answer to that question because of this non-disparagement clause."
"What we really need is an elimination of this non-disparagement clause and then I think we could have deeper insight into what actually happened in that meeting at the mansion," Nesiba said.
This story has been updated with additional details Tuesday.
https://www.cnn.com/2021/12/14/politics/kristi-noem-south-dakota-daughter-real-estate-license/index.html