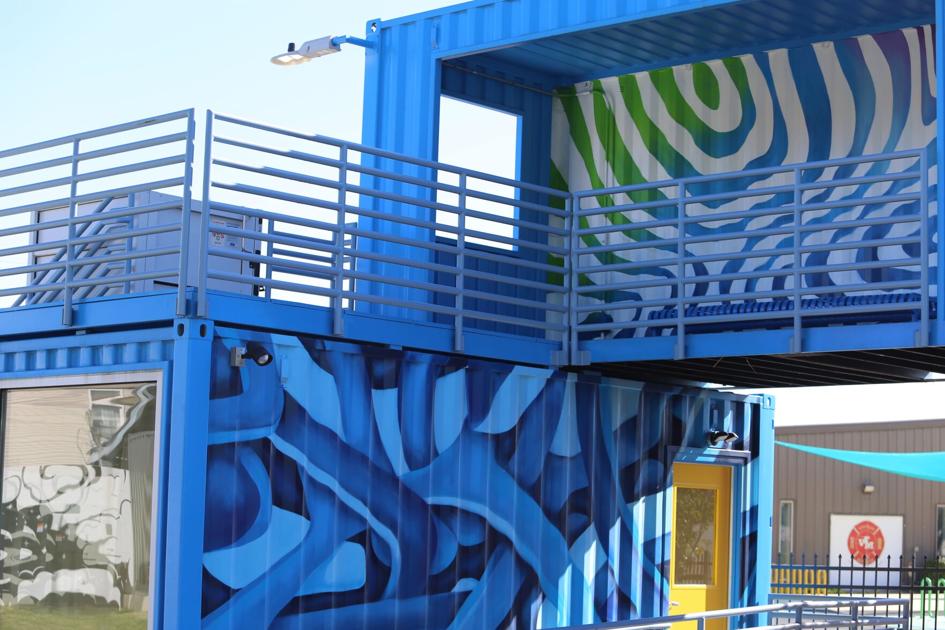 JEFFERSONVILLE — A new venue offers a destination for arts and entertainment in Jeffersonville.
Officials from the City of Jeffersonville presented a ribbon-cutting Tuesday for The Depot in NoCo Arts & Cultural District in Jeffersonville. The space at 701 Michigan Ave. serves as an art market and concert venue.
The space includes repurposed shipping containers covered in colorful murals painted by local muralist Wilfred Sieg III, who also created the mural on the nearby water tank in the art district. The containers have been transformed into spaces for artists to display and sell their work.
Starting this weekend, the city will present an event series called Depot Days for the next four Saturdays from Oct. 23 to Nov. 13. The events will take place from from 1 p.m. to 5 p.m.
Featured artists will rotate each Saturday of Depot Days, and the first event will feature eight local artists. There are many ideas for future events at the space, Jeffersonville Public Art Administrator Emily Dippie said.
"For the next four Saturdays, we'll be seeing kind of a combination arts market, concert [and] food truck experience, and that's what we're hoping for it to be on a regular basis — to be a space where art forms of various kinds can be served and be shown off to our community and connect in really kind of special space that's designed to do that," she said.
Dippie describes The Depot as a "funky space" that is already inspiring local performing and visual artists.
"I feel like every day I'm on the phone with people talking about their ideas for the space, because when you build a space that's specifically for the artists in the community to interact, it starts to spur on something really cool," she said.
The upper levels of the repurposed shipping containers serve as viewing platforms for performances.
"You can come and listen to the music, get a drink, get some food and come hang out on our upper platform," Dippie said.
Jeffersonville Mayor Mike Moore said The Depot allows people to "take a walk through a little village of artists." COVID-19 slowed down the project, but he is excited to finally show off the space, he said.
"The Depot is just one more way for us to be unique," he said. "We've always wanted to become a destination place, and I believe Jeffersonville is now that destination place."
During Saturday's event, Maker13 will be open for tours, and its Maker Mobile will be onsite at the The Depot to showcase tools available for crafts, art and hobbies.
Scott Hawkins, member of the Jeffersonville City Council, said "a lot of people have worked a long time" to create The Depot.
"This is really a jewel," he said. "No other communities around here really have this. It will be a draw. It's hard to become a destination spot, and we are becoming a destination spot. This will have a lot to do with it."

https://www.newsandtribune.com/news/the-depot-entertainment-venue-opens-in-jeffersonville/article_7f295b52-3126-11ec-a375-17a6674ce2bd.html