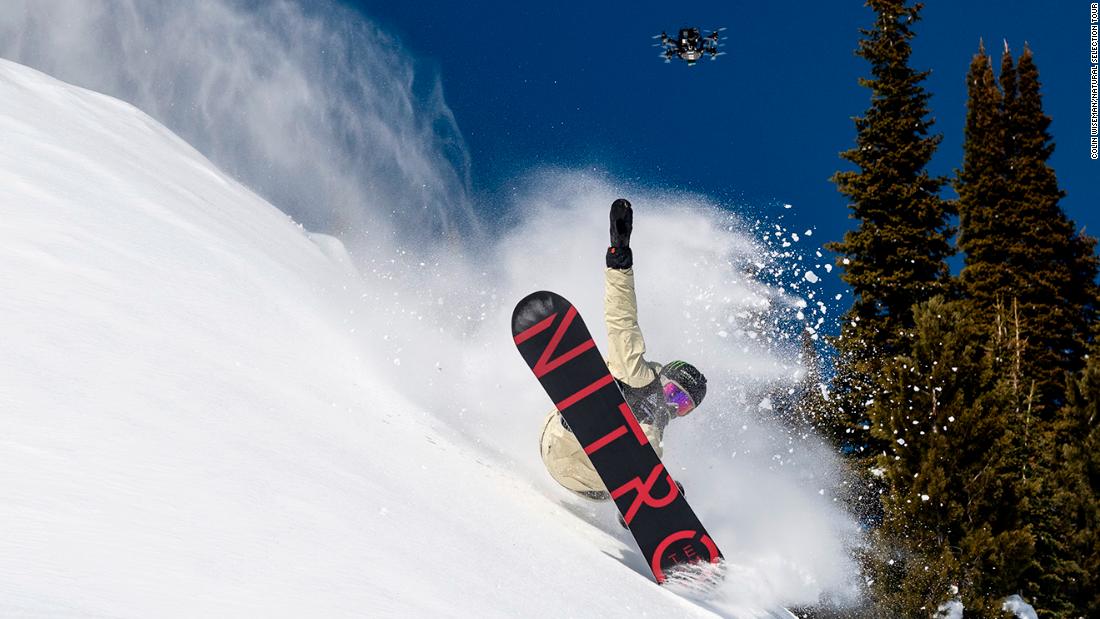 But through his star-studded new series the Natural Selection Tour, legendary big mountain freerider Travis Rice thinks he's finally brought both worlds together.
The series takes place in North America over three separate weeks in three large terrain venues, bringing competitive freeriding to wide open natural terrain. But the key innovation is the way it is being filmed, combining sporting drama with cinematographic ingenuity.
Custom-built high-speed racing drones cast a dynamic lens on the riders — the first time this level of technology has been used in live broadcast.
The sheer size of the venues makes drone filming not just aesthetically desirable but also a logistical necessity.
"Even here at the smallest event on the tour, there is about a thousand feet of vertical drop," Rice told CNN, from the first event of the season at Jackson Hole, Wyoming. "That is roughly 18 to 20 acres, with over 60 features that we've been designing and building over the past three to four years."
The scope and variety of routes available with that kind of scale render more traditional forms of broadcast inadequate; static cameras placed at strategic positions on a course, follow-riders sporting handheld GoPros behind the competitors, or cable systems strung up above the mountainside all lack the range and adaptability provided by the racing drones.
"Over the years of trial and error with filmmaking, we realized pretty early on that the nature of this event, and how large and complicated the event venues are, meant it had to be captured in a special way," said Rice.
Bringing experiences from working on more than 20 snowboarding films, the 39-year-old viewed this new series as a chance to deliver "an immersive experience" more akin to a video game than a traditional sports broadcast.
"People are used to looking at that third-person shooter angle (following from a close-up rear viewpoint) — that's what video games are like," he explained. "So being able to provide a really familiar way of experiencing and watching something, I feel like reduces this barrier to entry."
Racing drones
The man to help realize that vision was Gabriel Kocher, a Swiss aerial cinematographer who doubles up as a professional drone racer, twice finishing second in the World Drone Racing Championships.
When Rice first approached him, Kocher explained the challenges they would face. "You can't just buy a drone to do this, I'm going to have to spend some serious time building it," he recalls telling Rice. "But by the time it was go-time, I had a system together and it all worked out."
The system he created uses an X8 drone platform, built for cinematography, with eight motors, a customized gimbal (a rotating camera support), full broadcast system and a stabilization platform, to enable extreme agility and speeds of up to 100 miles per hour.
To control such a system takes more than your average drone cameraman, and Kocher has had to tap into his seven years' experience in drone racing just to keep up with the riders as they descend the mountain.
"It requires an athlete's performance to capture the athlete's performance," he explains.
"When they run the easier line and they're just going smooth, I'm trying to tap into my cinematography background, but sometimes they're just gunning through the trees and I just basically need to throw the drone through some turns just to catch up with them.
"It's definitely a culmination of the drone racing skillset and the love for riding and snowboarding, to see them and be able to anticipate what's going to happen."
While more basic drone filming has been used in sports for many years, the speed and agility of Kocher's custom-built models have already inspired other competitions to follow suit, such as the legendary Kitzbuhel downhill skiing race.
Attracting the world's best
The opportunity to compete in these unique venues has attracted some of the world's best freeriders, from X Games champions to Olympic gold medalists, with more stars set to join the tour's second event in Baldface Lodge in British Columbia after the Beijing Winter Olympics.
At the first event in Jackson Hole, it was Olympic slopestyle champion Sage Kotsenburg and halfpipe specialist Elena Hight that took the victories, both coming with a wealth of experience not just in competitive snowboarding, but also filmmaking. In 2020, Hight filmed her first backcountry feature, "Blank Canvas," with Rice, while Kotsenburg shot his own film, "Halcyon," at Jackson Hole, with fellow Natural Selection Tour finalist Jared Elston.
Rice believes high-caliber athletes have been attracted to the difficulty of the competition with riders having to interpret the mountain terrain and set their routes in real time, in a way they don't when competing in Olympic-style park events.
"It's not a park, you don't get a practice. This is really difficult," he explains.
Without a chance for practice runs down the course, the athletes prepare by using VR headsets to watch Kocher's drone runs, in order to decide how best to tackle the mountain when it comes to competition.
The future of action sports broadcasting?
While spider-cams suspended from cables make sense for the aerial shots of smaller stadium sports, Kocher's technology and style of shooting could become the standard for more "open-world" competitions.
"It lends itself really well to all of the action sports that are out there, extreme sports," says Kocher. "Its place is in bigger outdoor venues where it's impossible to just rig cameras everywhere," he adds, citing car racing, mountain biking and skiing. "I can see a lot of applications for this."
https://www.cnn.com/2022/02/07/sport/natural-selection-tour-drone-snowboard-spc-intl/index.html