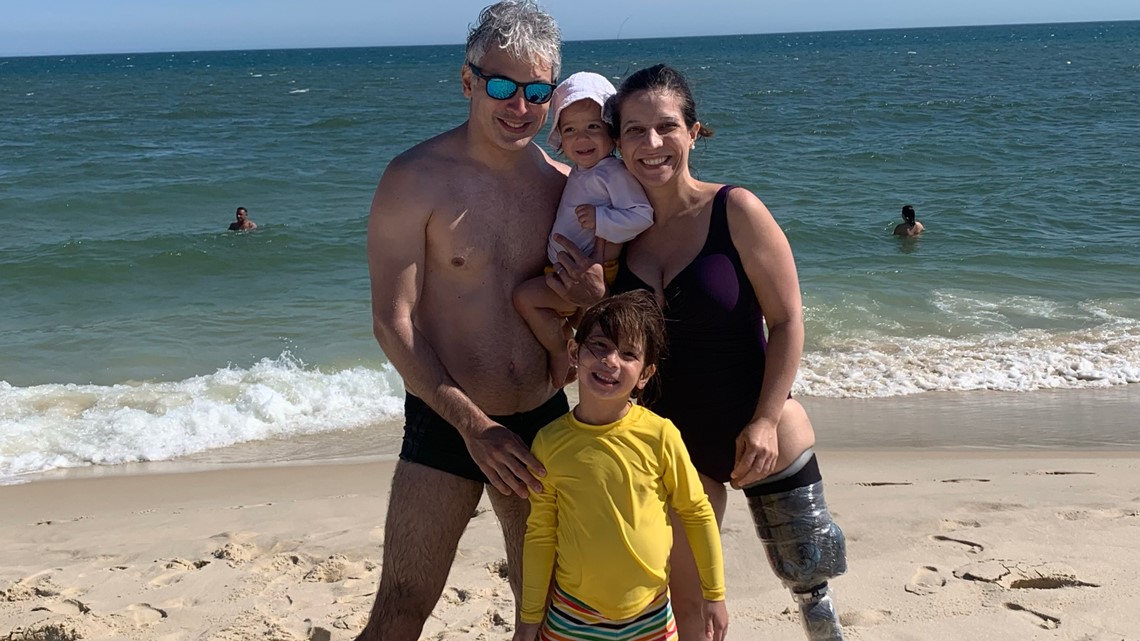 Helen Harris just barely got her baby daughter to safety before she was hit and badly injured by a dump truck.
ARLINGTON, Va. — Seems like all too often, we're telling you about another pedestrian or bicyclist hit, injured, or killed on our streets. Even during the pandemic, with fewer cars on the road, the death toll is getting worse, according to the regional Street Smart safety program.
An Arlington woman who was literally hit by a truck is now trying to improve safety for all of us.
"On December 13, I was taking my daughter to daycare," Helen Harris says on a video telling her story.
The Rosslyn woman has taken her pain and channeled it into activism.
In 2018, Harris was crossing Lee Highway at Fort Myer Drive with her four-month-old in a stroller when she was run down by a dump truck. She was able to push her daughter out of the way, but the truck ran over her leg.
"My baby was unharmed. But in the process, I lost my left leg and became an amputee," she said.
Harris's story is all too common.
In 2020, 94 pedestrians and five bicyclists were struck and killed on the streets of Northern Virginia, D.C., and Maryland, according to the Metropolitan Washington Council of Governments and Street Smart.
October is Pedestrian Safety month, in part because the Fall is a particularly dangerous season. "This time of year, daylight hours get shorter, making it darker during the morning and evening commute. We're also hurrying about during the holidays and it's very easy to get distracted," said Julian Perez of Street Smart.
Harris has been recording videos and speaking out for traffic safety. Even for those who survive, she says, recovery can be hell. "A while back, we went to the beach for the first time. The kids had so much fun, but it was an ordeal for me… I grieve for the life I used to live," she says.
She still talks to a therapist regularly to help her deal with the stress and the fear of crossing the street.
The safety tips are common sense.
Slow down and obey the speed limit.
Stop for pedestrians at crosswalks.
Be careful when passing buses or stopped vehicles.
When turning, yield to people walking and biking.
Look for bicyclists before opening your door.
Allow at least 3 feet when passing bikes.
Avoid using your cell phone and never text while driving.
Cross the street at the corner and use marked crosswalks when they're available.
Use the pushbuttons.
Wait for the walk signal to cross the street.
Watch for turning vehicles.
Before crossing, look left, right, and left again.
Be visible. Wear something light or reflective after dark.
Watch out for blind spots around trucks and buses.
Avoid using your cell phone while you're crossing the street.
On an off-street trail, obey all posted signage and approach intersections with caution.     
If you're biking  .  .  . 
Obey signs and signals. 
Never ride against traffic. 
Ride in a straight line at least 3 feet from parked cars. 
Use hand signals to tell drivers what you intend to do. 
Wear a helmet. 
Use lights at night and when visibility is poor. 
On an off-street trail,  obey all posted signs and approach intersections with caution. 
The sad fact though is that even people playing it safe are sometimes hit and killed.
https://www.wusa9.com/article/features/producers-picks/helen-harris-hit-by-dump-truck-while-in-crosswalk-now-channels-street-smart-safety-message/65-6c0f66c9-23a6-48e4-9bc6-095325a03783