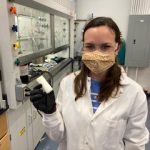 Scientist Mary Beth Browning Monroe is developing materials for healing the human body that could make a tremendous difference in life or death situations.
These biomaterials—easy to use and highly effective—could control bleeding within wounds, especially critical in instances where time is of the essence such as on the battlefield, in an ambulance or in rural locations, far from the nearest hospital.
Monroe, an assistant professor of biomedical and chemical engineering in the College of Engineering and Computer Science (ECS), and her lab work extensively with shape memory polymers (SMPs). These smart materials can be shaped into a temporary shape when a stimulus, such as heat, is applied to them. Monroe compares the materials to a kitchen sponge in terms of feel and flexibility.
"You can imagine if you have a big sponge and you cool it down in a really small shape, you can then stick that into a gunshot wound. It would be easy to fit in there because it's really small," Monroe says. "But then once it reheats to body temperature, it expands out and fills up that wound. It hits all the wound walls and is there for the healing process."
Monroe's SMP research is a continuation of the work she started years ago. Now in her own lab at Syracuse, she works to give back to other students by connecting with women graduate students and instructors and participating in campuswide peer mentoring opportunities for those in the STEM fields.
Mentorship opportunities and connecting women with other scientists that look like them are important steps to close the gender gap that has existed in STEM fields for years. That persistent gap is one of the reasons that the International Day of Women and Girls in Science was established in 2015 by the United Nations. Celebrated each year on Feb. 11, the annual effort recognizes the role of women and girls in science not only as beneficiaries, but also as agents of change.
"I've been very lucky to have a lot of strong female mentors in my life throughout all my training," Monroe says. "That's kind of rare in engineering because there aren't a whole lot of women. I love the idea that I could be that to even just one woman in my lab group."
Monroe sees endless possibilities for the biomaterials she's working with. Applicable uses include making the materials degradable so they can disappear in the body, engineering material that's anti-microbial to reduce infection risk, and formulating a smart material with pain reliever components to provide comfort to a patient before they've reached the hospital. She hopes the wound healing technology could be in clinics or in the field in the next five to 10 years.
"Harnessing the body's natural ability to heal itself is really the goal of tissue engineering," says Monroe. "What drives me and makes me really excited is thinking about how these can be applied and make a difference in patients' lives."
Women in Science Day Profile: Biomaterials Engineer Developing Smart Materials of the Future